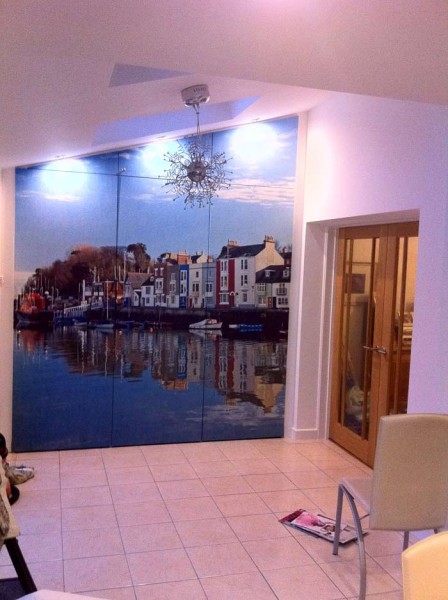 There are certain areas of a house that tend to look sort of dull, hallways and entrance halls for example. Utility storing such as cupboards can look less than exciting in these spaces. If you are sick of entering a dull area each day and want to give your home a better first impression then do something about it now! A personalised wallpaper is one great solution…
By using your own digital photo or images from companies that stock photos you can create a customised wallpaper to fit anywhere in your house. Above is a great example of a personalised wallpaper solution to hiding dull cupboards located in a walk-through area. You can barely tell that there are cupboards underneath!
This large wallpaper featuring a great photo turns a dull space into an exciting space which will leave guests impressed. A digital photo can make such a huge difference to your home interior as the image above proves. You can use a holiday snap or a digital photo of a place you'd love to go to for inspiration in your everyday life.
Beautiful images of people, nature or animals are other great subjects to customise the wallpaper with. It will improve your home interior in a flash. The wallpaper is super though so it won't tear which is ideal for families. You can even wipe the wallpaper without damaging the image, again great for families with young children.
We provide you with instructions on how to measure and install the wallpaper. Our designers work on the layout of the wallpaper when they have the measurements and your requirements and provide you with a proof before final printing. If you have a great digital photo, a dull space and some DIY skills our wallpaper is the perfect solution for your home interior problems!