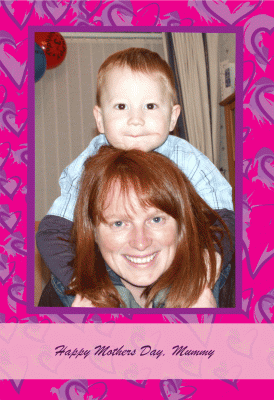 High quality personalised greeting cards
Our personalised greeting cards are popular for all occasions all year round. The high quality greeting cards with many different design templates are great choices whether you are sending out 200 invites to your summer wedding or giving one to your sweetheart on Valentine's Day. Buy one individual card or a pack of 12, 20 or 40. The set of 12 to 40 cards come in a personalised tin box and the individual cards with a quality envelope.
Personalised Mother's Day Cards
With 10 days until Mother's Day 2011 our studio has been flooded with supercute Mother's Day cards. The best cards to accompany Mother's day gifts are personalised ones. Greeting cards for the gas station just doesn't cut it for someone as important as your mum! The photo on the personalised gifts could match the Mother's day card. She'll see the card first and get a hint of what to expect from the Mother's day gifts.
Limited offer on Mother's Day Cards
And with our fantastic limited offer on Mother's day cards there is nothing stopping you from making your mum a cute and loving greeting card. We offer you a free card to personalise when you order any product from our website! This offer ends 1st of April so you've got a whole week to order personalised gifts in time for Mother's Day. Take this opportunity to give your mum stunning personalised gifts and a personalised card.