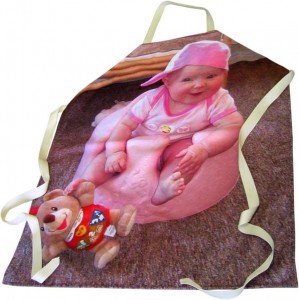 The kitchen – we all spend some time in there at some point during the day. How much depends on whether you cook or not and how passionate you are about food. Maybe you are lucky enough to have a husband or wife who takes care of all the cooking or maybe you are a "Come Dine With Me" aspirant who practice at home for your future moment of fame! Breakfast, lunch and dinner is prepared in your kitchen and you can create dishes from all over the world with the right ingredients and skills.
You can make mouth watering desserts and sizzling starters that you and your family can enjoy together sitting by the kitchen table. In the kitchen the busy mum can relax with a cup of tea and toast in the kitchen after a long day and the bachelor can cook burgers for him and his mates on a saturday night. Whatever we do in our kitchens we like to take pride in them and make them look good and even accessorise ourselves the time we spend in there!
Personalised photo aprons make superb kitchen Christmas Gifts for anyone who likes to get down to business in the kitchen and cook creative dishes. If you know someone that can get a little bit too excited in the kitchen and spill the ingredients all over themselves then why don't you get them personalised photo aprons for Christmas Gifts this year? Fun photos will look great on our amazing aprons and they will take cooking to a whole new level!
Our photo placemats and coasters also make great kitchen Christmas Gifts. They are extremely heat resistant and can be easily cleaned with a wet cloth. The super glossy finish on both coasters and placemats make these kitchen accessories true pieces of art in your kitchen! They will give the kitchen a lift as well as they create a modern and personal touch. If you know someone with a slightly dated kitchen then these kitchen Christmas Gifts are superb.