How you can create your own washbag in 3 easy steps
Did you like reading about the washbags from our footballers and are thinking about designing an own washbag? Great, just follow these 3 easy steps and you will see how quick and easy it actually is to be the designer of your own photo gifts from Bags of Love.
1. Go to the design page and choose between black canvas or black leather and whether you wish to have a print on one side as standard or a different design on reverse too.
2. Start designing your wash bag. That's where the fun begins. You can either just upload one image and have it printed onto the whole side of the washbag or upload more than one image and create a montage. Since you can re-size and move the images in the preview system you will be able to see your design straight away. Like it? Great, proceed with it right away. Have you seen that you can add text and background colours too? Change the colours into black and white or sepia?
Just give the preview a try and you will see how easy it is to create a very unique own design with your own images.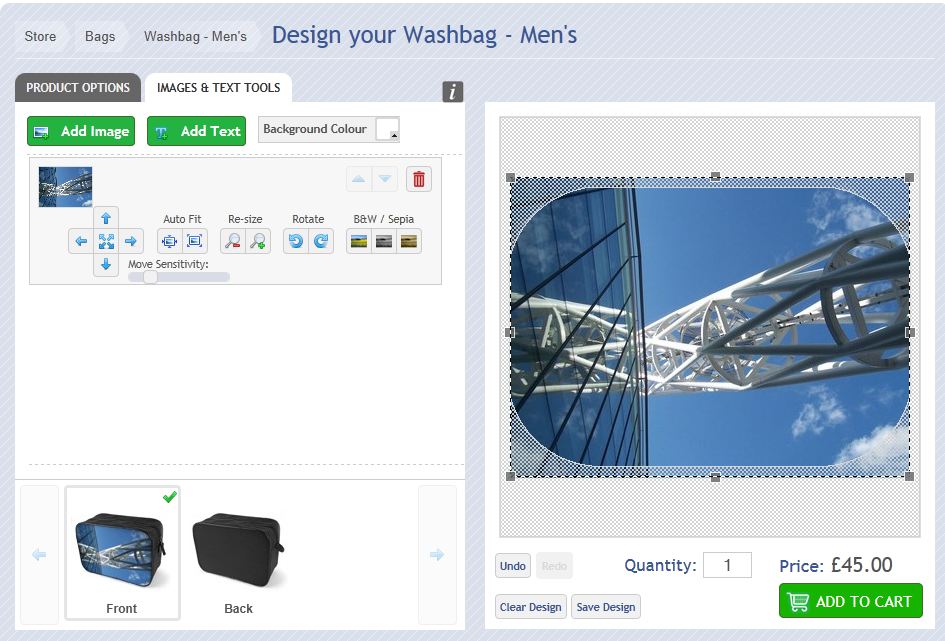 3. Have another look at your design – do you like what you see? Once you have placed your order we will start with the production straight away. We will print your design on tough HD satin and then by using a combination of other great quality materials (hard-wearing canvas or leather, a waterproof inner – lining, chunky zip closure and leather zip tabs) create your very own washbag for men. With a turnaround time of just 1 -2 days you could even have your own bag in time for the next match of England in the Euro 2012. We can only promise the quick turnaround though, not the win and the reaching of the semifinal…