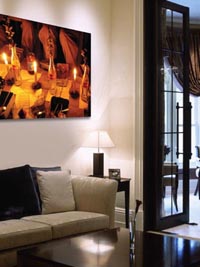 You may not realise the power a photo canvas. You might think that your home interior is a lost case and that nothing will make it look cosy or trendy or whatever vibe you are trying to accomplish. But a photo canvas can transform a dull living room to a comfy space where you can relax after a hard day at work or turn your outdated kitchen to a modern, contemporary place to cook and socialise in.
If you think your living room is too pale and bare, placing a couple of photo canvases of heartfelt photographs in warm colours will most certainly do the trick. Reds, yellows, oranges, browns and purples are considered "warm" colours. Warm colours have always been connected to creating emotions in the form of comfort, lust and passion. If you want to create a cosy and intimate feeling in your bedroom, lounge area or dining room using these colours on wall paint, furniture and wall art t is ideal.
Cool colours such as blues and greens are also said to have a calming effect and they are often used in modern design. Such colours on photo canvases can update a room in a flash! In ancient Egyptian and Chinese cultures it is believed that one can heal with the use of colour. Whether that's accurate or not we can all agree that a room with cosy colours does make us feel more relaxed after a long day! So using a photo canvas with a certain colour scheme can dramatically change the dynamics of a room and ultimately improve your home interior.
Whether you put drawings, artwork, famous photos or your very own photographs on photo canvas you can set the mood of the room. You may have stunning photos from a holiday in Morocco where you captured the essence of beautiful Islam architecture. Snaps of colourful mosaic and buildings will look gorgeous as wall art that you can place around your home if you want to create that warm atmosphere. Photos of oceans and green fields will modernise a dated room. Take your pick and improve your home interior today!