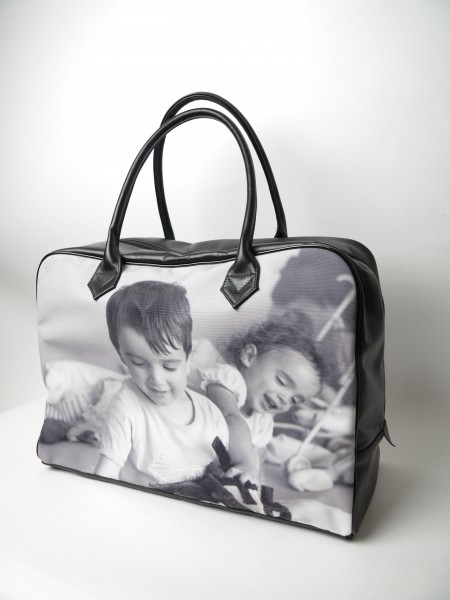 If you are looking for unusual and fun personalised gifts for men Bags Of Love have some great options for you to choose from. We would recommend our unisex holdalls if you are looking for a gift which has a high level of personalisation and which he will have great use of. And if you are looking for original Valentine's day gifts for him you have come to the right place. The holdall is great for everyday use if the man you are buying for have a lot of things to carry around with him.
They are perfect for work, the gym and for nights or weekends away. If the man in question is always running around, from work to the gym to his mate's house, a large holdall will be his perfect companion to stay organised and practical throughout the days. If your husband travels a lot then putting a photo of your children on the holdall is a great way to make him feel like he's got a piece of home with him when he travels.
Our personalised wash bags are used by some of the UK's top male celebrities so our personalised bags are very current and trendy personalised gifts. Our personalised laptop bags are extremely popular gifts for men so you could add a personalised wash bag and laptop bag to the holdall to make it a complete gift set. The quality of the holdalls for men is simply excellent. The holdalls for men are handmade for finest and strongest quality so they will last him a long time.
Finding Valentine's day gifts for him can be hard as most Valentine's day gift ideas are targeted at women. Jewellery, lingerie and flowers are on offer and sold everywhere but Valentine's day gifts for him are kept in the dark. That's the great thing about personalised gifts from Bags Of Love, they suit everyone! Any photo or image put on a great item make ideal Valentine's day gifts for him as well as her.