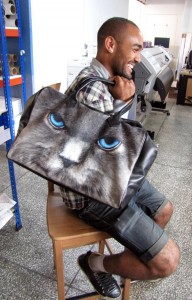 Whoever said bags are for women only, was very wrong! This sturdy holdall is very much a unisex bag that has so many purposes. The holdall make excellent gift ideas for men everywhere. For a travelling business man this is a perfect overnight or weekend bag to fit the essentials.
Or maybe your jobs need you to carry things around with you, perhaps if you are a photographer, stylist or sportsman. For keeping fit daily, it's also a great gym bag. If you are looking for gift ideas for men, maybe for your dad or boyfriend a personalised holdall is a different but perfect choice if you really want to surprise him. And surely he will find the bag very useful!
Choose from canvas or leather with 100% thick cotton lining with two pockets and double zippers. Five chrome base studs underneath the holdall protect the bottom of the bag from scratches and stains. The holdalls are handmade right here in our London studio and you have a one year guarantee after your purchase.