Store bought Happy Mother's Day cards can be very nice, but if you really want to impress mum, why not design your own card?
Have you walked into a greeting card shop recently?! They are packed, seriously, packed to the rafters with a huge array of cards, for every occasion. It's great to have this kind of choice, but, well, shop bought cards are not the most personal way to express your feelings are they?
This Mother's Day, show mum a little extra love and design your own card! From those photos she just loves to brag about, to a sweet and soppy message, which will make her well up with emotion, our guide to creating Happy Mother's Day cards has everything you need to make you the favourite!
How to design your own card for Mother's Day in 9 easy steps
We have designed a little step-by-step guide, to show you how to design your very own card, and make mum extra happy.
5 tips for designing the best Mother's Day card in the world
When you design your own card, you are in the driving seat. This means that you can do pretty much whatever you want, within the realms of the card template. From funny photos, to original artwork, made by the kids, here are some extra special tips to ensure you make mum the best card ever.
Make it personal – Let's be honest, the whole point of making a personalised card is to make it, well, personal. Think about what you want the card to look like. Photos of the family, grandchildren – if she has any (yet!), wedding day pictures, holiday snaps, photos where she looks particularly gorgeous, you get the idea. Personalised cards with photos are a great way to display all of her most treasured moments. Our design system also allows you to make a photo montage, just in case you have trouble choosing a single image.
Artwork works great too – If she has young children, or if she has young grandchildren, then artwork made by the kids is a wonderful way to personalise her Mother's Day card. All you need to do is scan the art, or take a photo of it, and upload it onto the card. This is something we guarantee she will love, especially if you can get the kids to draw a portrait of her!
Choose the right template – At Bags of Love, we love giving you options, when it comes to personalising the perfect gift. This is why we have created 7 beautiful Mother's Day card templates for you to choose from. You also have the option of choosing a completely bespoke card, which is blank for your own design. Choosing the right template is the first step to creating the perfect card. Have a look at whether you want your card to be portrait or landscape. Do you want a specific background for your design? What about a greeting for the front of the card? Do you want something short or long? We suggest playing around with a couple of different templates, and opting for the one, which makes your design really stand out. Have fun with it.
Get the greeting right – "Happy Mother's Day" is about as basic as you can get. As you are the designer, you have the power of writing anything you want on the front of the card, and on the inside of the card. When she pulls it out of the envelope, you want to hear an audible gasp of emotion, surprise, and joy! Getting the greeting right is almost as important as the overall design. You can include her name, or maybe a little inside joke, or one of her favourite sayings. Keep it as personal as possible, to ensure she knows that this card has come straight from your heart. Inside the card, you can write on both sides, so there is plenty of room to let her know just how much you love her.
 You shouldn't leave it till the last minute, but if you do, that's OK – You know Mother's Day is coming up, but you've left it till the last minute. Don't worry. You're not alone! This is why at Bags of Love, we can print your card and have it ready on the same day, if ordered before 12pm. With next day delivery available, you actually have a bit of breathing room, just in case you had forgotten Mother's Day is almost here. We won't tell.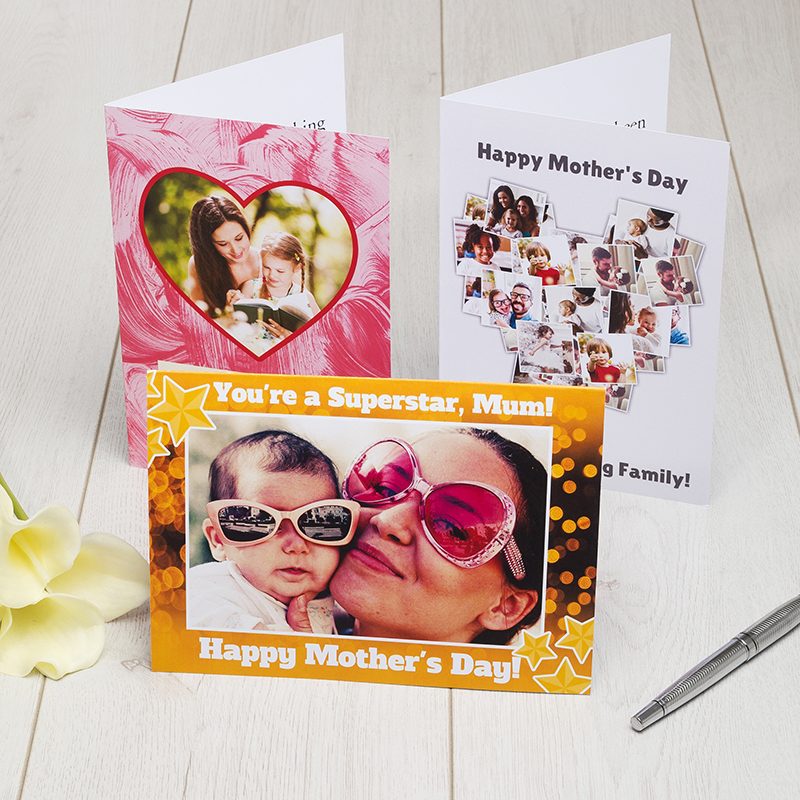 Last minute Mother's Day Gifts
Whatever you are planning for mum this Mother's Day, we hope she has a wonderful Day. And, if you are looking for an equally brilliant present to go with your card masterpiece, then why not pop along to our Mother's Day gift shop? We have a huge selection of beautiful, personalised gifts for mum, which she will love. Best of all, most of them can be made within 2 days, so if you need last minute Mother's Day gifts, we have your back!