Keep track of your man as well as keeping him looking gorgeous!
At Bags of Love, we like to think of ourselves as experts in the personalised gifts and photo gifts industry. However, we are also specialists when it comes to cutting and sewing and breaking new technology!
Our team consists of expert craftsmen, seamstresses, designers and printers, who work together with the head office crew to bring you everything you know and love about Bags of Love. However, we also have a crack team of tech experts, who constantly astound us with new ideas and products.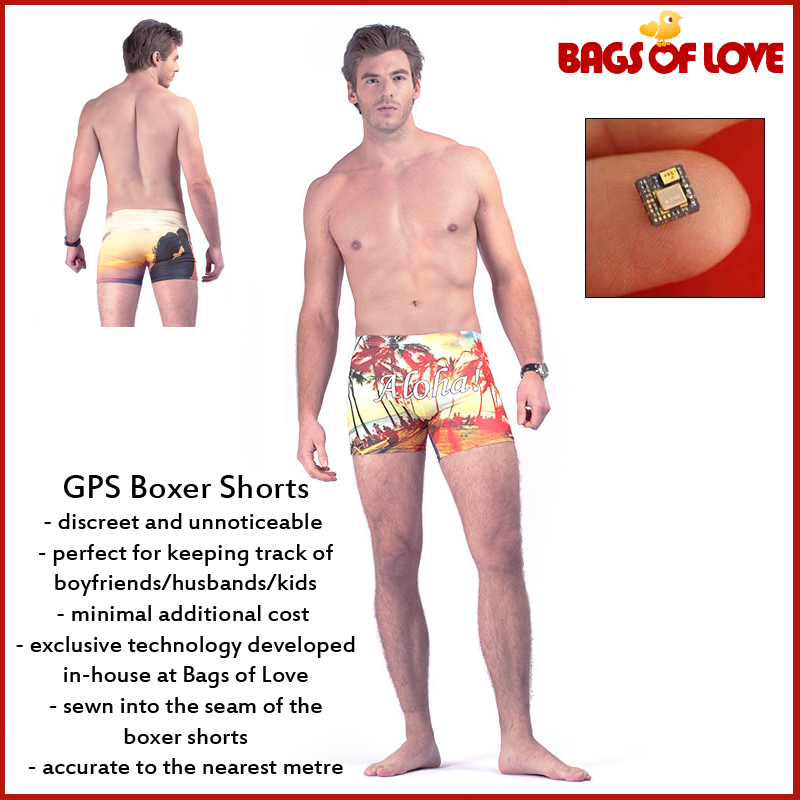 One such idea came about when one of the team decided to create a tiny GPS device to clip onto his cat's collar – who suspected was going to a neighbours house for extra food! When the experiment proved to be a success, we looked to see how we might be able to incorporate this unique tracking device with one of our favourite personalised gifts – our Personalised Boxer Shorts!
By adding a GPS option, you can track your boyfriend/husband/friend/whoever you have bought the boxers for, discreetly and easily! We sew the tracker into the back of the waist band, so it is totally unnoticeable! Perfect if you suspect your fella of getting up to no good! Our GPS will track his boxers – accurate to the nearest metre.
Give him a lovely personalised gift and keep up with him at the same time!
If you fancy having a go and designing a pair of GPS Personalised Boxers, just click here, but hurry, they're selling out fast!
Bags of Love x