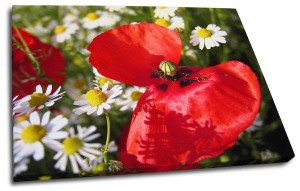 Your room is missing that something, but you don't know what it is. No matter what style your room is, a floral photo canvas can truly make all the difference. So here are some suggestions from Bags Of Love…
Minimalist Floral: Ditch that dusty orchid you always mean to water! A clean cut square photo canvas print depicting a single flower is low key way of de-clutter your room décor. It can complement an existing colour scheme – or add a smash of colour, right where you need it. If you don't want the fuss of an actual picture – one wall splashed with photo wallpaper is a beautiful enhancement to your room.
Funky Floral: Flowers blooming make for funky prints as wall décor. How about some blooming pink tulips arranged in lines and blocks for her and some charcoal lily pads featuring splashes of red for him? Flower pictures don't have to be boring, there are loads of ways images of flowers can be taken to shake up your home décor.
Traditional: Roses are red, violets are blue, you choose the photo we'll make it for you – relaxing pictures on photo canvas are great bathroom decor.
Edgy/Urban Floral: floral prints as new home gifts are a neat gift for city living. A flower photo against a concrete backdrop creates visual excitement, and a folding screen as a room divider is a nifty way to create separation in loft dwelling apartments.
Retro Floral: A normal photograph of a flower can be transformed by giving it one of our Pop Art treatments. Use one image on a canvas, or maybe have a square block of four in different colours?
Go to your florist for inspiration, and create the room makeover you have always wanted with photo canvas printing from Bags Of Love.