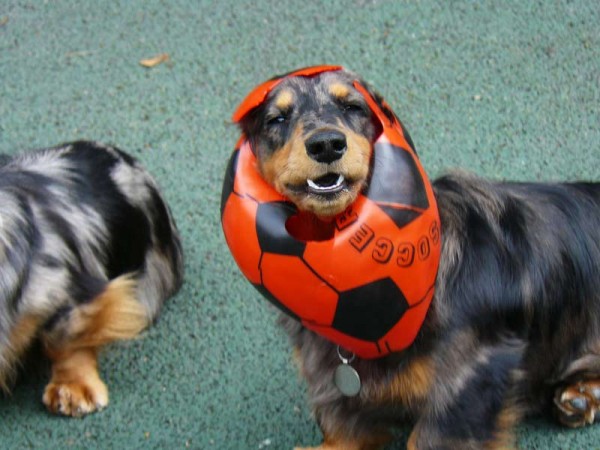 When it comes to choosing a digital photo of our pets for a photo item it can get pretty tricky. Probably not because you don't have enough photos, but because you have too many! The owner of the cute photo blanket below said "I do have a lot of more cute photos, it was very hard to choose which ones to use". This proud owner have three long haired miniature daschunds named Digby (the one with the football on his head above!), Smudge and Pippa since five years. Smudge and Digby have the rare colouring 'silver dapple' but Pippa has a rare story of her own. Pippa was stolen right in front of her owners eyes in her garden when she was just eight weeks old. Only a few steps away, Pippa's owner saw a fox pick Pippa up in its mouth and run off. And even after a long search (with some help from Smudge) Pippa was not found and neighbours and the vet all said she would be dead.
After two days a miracle occurred. Pippa was found several doors down. She had crawled out of the fox's den into a neighbour's garden and they had taken her to the vet. Luckily Pippa was totally unhurt and the local newspaper did a story on this miracle. "I also wanted to warn people of the dangers of fox's" says the owner. Miracle number two also made the local newspaper when Pippa became pregnant before her first birthday and went on to having a litter of puppies. Take A Break magazine did a story on Pippa about a year later on. It is safe to say that Pippa is a rather famous dog today!
"They are very friendly to people but not keen on other dogs; Digby is especially special because he looks upon me as his mum as I fed him from day one. They all have very different personalities" says the owner of her precious dogs. As you can see above, Digby is obsessed with rubber balls, Smudge is the cuddly lover of the group and Pippa – not surprisingly – is a fearless dog that stands her ground. They all enjoy running around in the garden chasing each other and due to the huge amount of attention they get when out in the village they all love to pose for a digital photo!
A digital photo is great, but several digital photos are even better. Lovely photos of pets like the ones on the photo blanket below are ideal for gift ideas for pet lovers. This blanket was a 40th birthday present to the owner after she received a gift voucher from her sister for her birthday. It is also a very special blanket because not only does it include the dogs, but important family members too. "My next thing will be to save up for a duvet set" says the owner. If you really want to give a pet lover a special gift, vouchers from Bags Of Love will do the trick. Gift ideas for pet lovers are not complicated – by giving a gift voucher the pet lover can choose digital photos and compile a lovely photo item they will cherish tremendously.