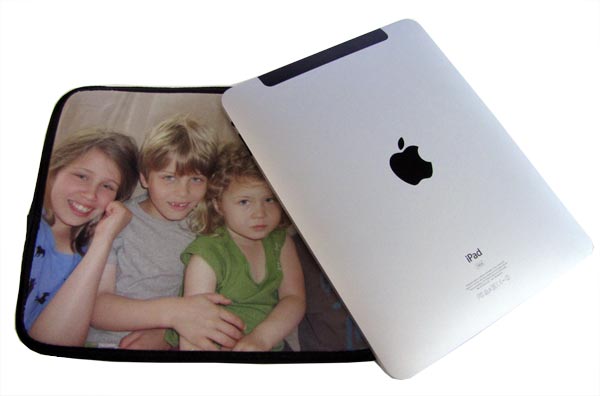 Our latest addition to our bag range is the clever and stylish iPad case. The iPad cases make brilliant gift ideas for men who can't tear themselves from their iPad. For gadget lovers this is simply the one to get. The high quality wet-suit material is hardwearing and protects to the fullest. You can bring the iPad with you anywhere in this case without worrying about scratches or getting the glass smashed.
On top of the protection and utility the iPad cases gives you, they are totally personalised by you so not only are you getting gift ideas for men that are useful – he'll also walk around with the coolest and most personal iPad case ever!  You could add a family photo or a child's drawing to the case for the family man or a cool print or bit of artwork for the artsy bachelor.
We are the only company offering you this kind of service. We are exclusive to putting your photos, drawings or artwork on a high quality iPad case at the moment creating the latest in gift ideas – iPad gifts. Sort of like the cherry on the top isn't it, that these gift ideas are totally exclusive. People will most likely ask him where this marvellous case is from.
Inventing revolutionary products is what we do here at Bags Of Love. We want to offer you the smartest, newest and coolest products to be found on the online printing market. Add excellent quality, fast delivery and friendly customer service to that list and you have Bags Of Love in a nutshell! Technology is moving fast these days and we waste no time keeping up with that. Your technical gadgets needs personalised and practical protection and we can provide that for you.