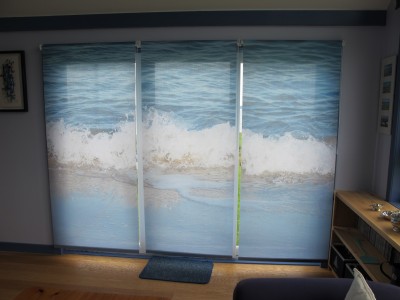 Practical And Fun Home Interior Items
The sun is back in England and as much as we love it in the daytime we don't want to be woken up by it too early in the morning or let us get distracted by it when we are doing important things around the house. So you need roller blinds. But not just any roller blinds, you need photo roller blinds. Why not protect yourself from the sunshine and create interesting pieces of home interior items. Personalised photo roller blinds from your digital photo or images are the perfect solution. We can custom make photo roller blinds to fit any shape or size window, from patio doors and shop windows to smaller windows around your house. The best part about these roller blinds? Their way of blocking out strong sunlight but still providing you with the light that you need which also creates a harmonious atmosphere. Depending on the digital photo of your choice these home interior pieces can really change the dynamics of your home as well as they are fabulous ideas for your business.
Change The Dynamics Of Your Home With Roller Blinds
Another fantastic thing about these personalised photo roller blinds is that you can transport yourself to somewhere entirely different! We've had some amazing orders of roller blinds with digital photos of sunsets, beaches and nature which really revamp the look of a room. You'll be transferred to a place you perhaps wish was right outside your window; beaches of Bali, sunsets in Norway or the nature of the English countryside. You can look at something in your window totally opposite to where you are. If you live in a big city with cement and brick walls outside your window customise an invigorating photo roller blind with a digital photo of nature or the ocean. And if you live in the countryside and is longing for the city buzz, make a roller blind with a digital photo of city skylines. Escape your everyday life with interesting images on roller blinds; it's cheaper than going on holiday all the time!
Photo Roller Blinds For The Kid's Room And Ideas For Your Business
The kids will love personalised roller blinds in their room. Choose their favourite digital photo from your last holiday or images of places they like. Perhaps your daughter is obsessed with going to Paris? Make her a roller blind with a digital photo of the Eiffel Tower which she can enjoy until she gets the real deal. If you need ideas for your business, such as improving the exterior or interior photo roller blinds can be the perfect solution. Massive photo roller blinds in the doors or windows of your business will intrigue and excite people that pass buy and can increase your sales. And for organisations trying to tell the public about a cause, make your statement with roller blinds so that the world can see your project.