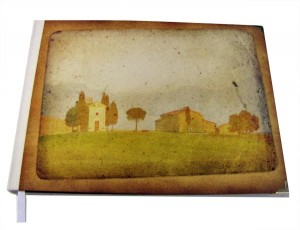 Photo Albums and guestbooks from shops and department stores are often very dull and without imagination. If you truly appreciate your digital photo you should display them in something just as special as them, so a personalised photo album is a must! Our photo albums are made from Italian thick ivory colour paper with stylish parchment tissue interleaves. The cover is made from a fine yet tough satin, hand bound to a hardback case giving substantial quality and feel. Text can be added on front and back of the album. Choose a digital photo, design or print for the cover to make the photo album unique just like the photos that go inside.
For special and important events such as birthdays, weddings, family and gatherings or for your business, perhaps running a hotel, the personalised guest books are divine. Personalised guestbook are great ideas for your business. You may wander through department stores and feel like all these guestbooks are just not you. An event or business should represent you and the best way to do so is to personalise down to the little things such as the guestbook. Details are important!
Hand bound with your image of choice printed on a fine satin cloth on front and back cover. The pages can be customised with date, name, address and space for comments making our guestbook excellent gift ideas for your business or private events.