Is your white fridge looking a bit dull? Are you looking for a unique gift for someone? These personalised fridge magnet letters are made in ceramic tile by hand complete with strong magnet in beautiful designs. They come in subtle colours and quirky letter impressions. They are fired and glazed here in west London by designer Jo.
Made with finest porcelain, she stamps each and every one using new and vintage printing stamps as well as locally found ad hoc objects. Everything is then finished in soft and subtle wash over colours. Once you have chosen the letters we select a random but suitable colour way. So basically each and every single letter is hand made and one of a kind, truly a gift of love.
These personalised fridge magnet letters are a great way to say thank you to someone or just remind them that you love them. Great for mother's day and father's day or as a birthday gift. Excellent for Valentine's Day or wedding anniversaries to give a memorable love message. Or for the kids or a friend with their name! The letters come in a sleek black presentation box ready to give away, straight away! Perfect gift ideas for any occasion.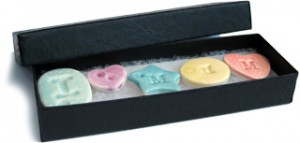 Fixed Sets:
I ♥ Mum £23
I Love Mum £29
I Love You £29
Thank You £29
Mr & Mrs  £25
Otherwise we charge £4.50 per letter. We include a presentation box. P + P £1.95.