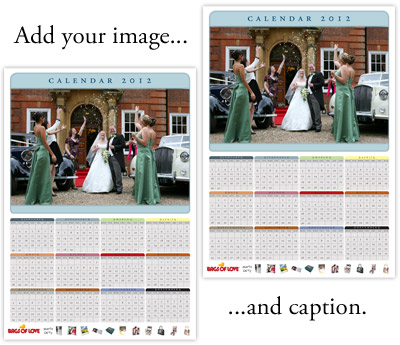 FREE Photo Calendars 2012
Did someone say FREE?! Start the New Year off right with a free 2012 photo calendar. With a free personalised photo calendar 2012, you can design and upload a personal digital photograph and write a caption to our single page, 12 month calendar. By selecting one of your favourite photo memories to print on your free personalised photo calendar 2012, you can remember and enjoy that moment for the rest of the new year!
Not only is the online design and physical calendar free, but so is the delivery. By sending us your email address, we will send you a neat and complete personalised portrait calendar via email. The final image you receive is a PDF, so you can easily print your free photo calendars 2012 as A4 or A3, and then share your calendar with friends and family as well. With our completely free service, you can create as many different photo calendars 2012 as your heart desires! After all the extravagent Christmas gift giving, make free photo calendars 2012 as the perfect and personalised New Years presents.