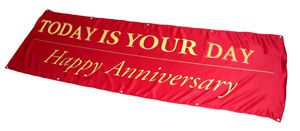 Most of us like soft fabrics and materials for interior products such as banners at special events. Plastic banners are not really inviting and can really make the atmoshere rigid. Vinyl is good for exterior use becasuse of weather conditions, but fabric custom banners are more suitable for parties inside or ideas for your business.
So as a rule of thumb vinyl banners for outdoor use and textile banners for indoors use. You can create a fabric custom banner from your digital photo and/or text for birthdays, weddings, anniversaries or family parties. If you need some fresh ideas for your business, investing in some fabric custom banners is a good idea.
When you visit a department store cosmetic counter you don't want to be surrounded by vinyl custom banners hanging from the ceiling. Fabric custom banners are easier on the eye and brilliant for presentations, events and anywhere where there needs to be a more intimate high quality custom banner setting the scene. Here at Bags of Love we only make textile dye sublimation banners from your digital photo with hand fishing sewing hems and eyelets or hanging fixings to order.