Step-by-Step Instructions for Photo Canvas Prints from Bags Of Love
If you need a bit of help using our online design tools, then be sure to read this article!  We have made a step-by-step guide to personalising your very own photo canvas print.  This post is the second in our series of posts explaining how to use our online design tools for specific products.  If you have any questions feel free to get in touch via Twitter, Facebook or email.
Currently, we are promoting our photo canvas prints with a 3 for 2 offer! The perfect deal for a summer full of birthdays, weddings, and holidays!
1)    Choose your product and image.
Are you looking to preserve a family photo from a reunion or holiday?  Or would you rather have a professional quality print of your own artwork?  Whatever your needs, we will be able to realize your creative vision on a high-quality printed canvas.  Find the photo canvas print in the product side bar, and click the yellow bird to begin the design process.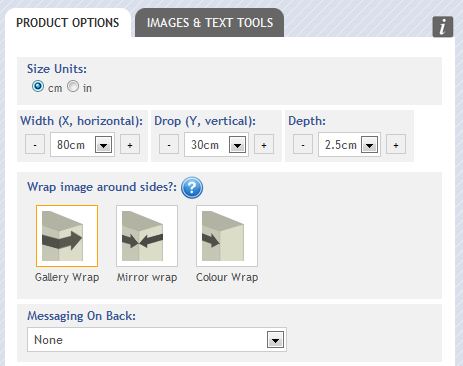 2)    Product Options
Be sure to double check that you have selected the correct size of canvas for your needs.  We hand stretch each canvas, and so are able to provide you with a variety of shapes and sizes.  To change the canvas size, simply indicate your required dimensions under 'Product Options'.  You are also able to choose how your image is wrapped around the sides of the final canvas, and are able preview these options once you have uploaded the image.
3)    Create your design
Select the image you wish to use – you can upload directly from your computer (jpeg file), or use an image from your Facebook account.  Once the photo is uploaded, a preview of the product is provided.  It is essential to check the image is of the correct quality for the size of the canvas.  Our online design program will indicate if the image is not of a high enough resolution – a yellow sign will appear in the bottom left corner.  To resolve this, you may choose a smaller product, a higher resolution copy, or find another image to add to the design.  You can also add a background colour, and text to the front of the canvas.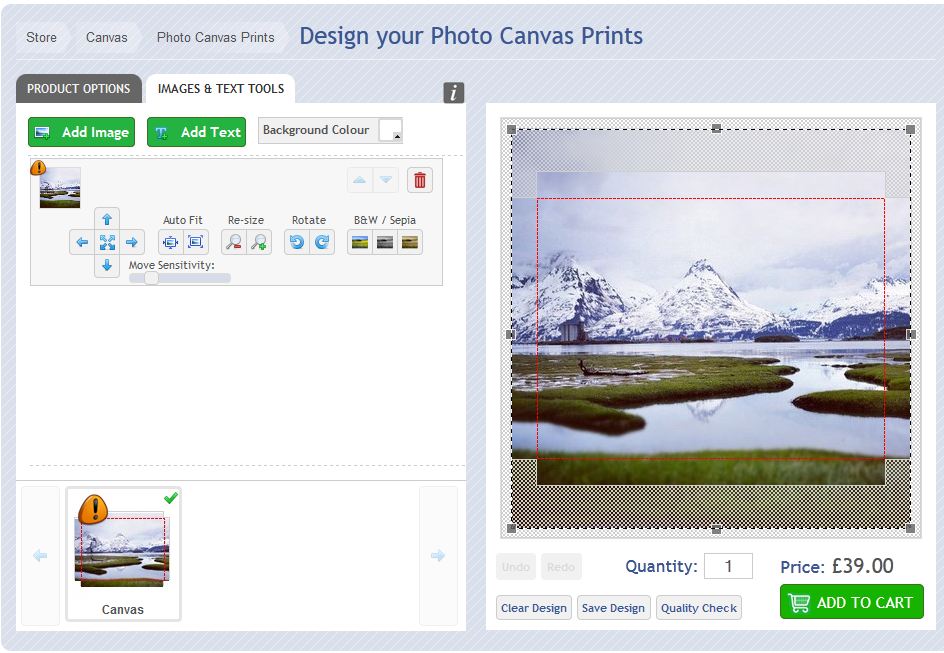 4)    Adding Text
To add text, simply click on the 'Add Text' button – this will allow you to write the message you wish to appear on the front.  Once the message is entered you can change the font, size, colour, and placement of the message.  To add a message on the back of the canvas, click on the back preview that appears in the lower left and simply type the message into the text box that appears.  There are not any design options for the back message text – but it is a fantastic feature for gifts and holiday memories.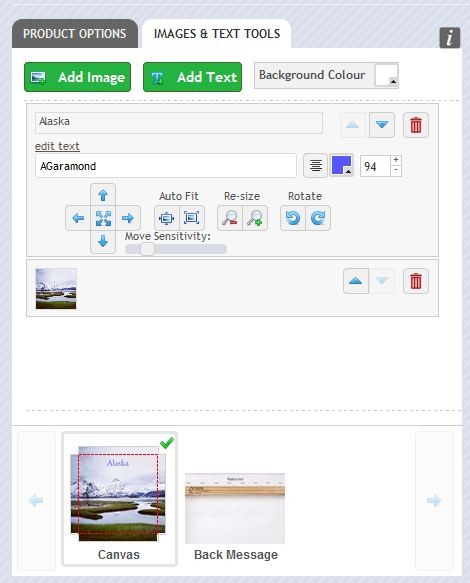 5)    Save and order!
Finally, check over your design and save it! If you are happy with your work, simply order online and receive your canvas within a couple of days! Everything is handmade here in our London studio.  We always love to hear back from customers, so please let us know what your think of your canvas! We may want to feature it on our Facebook, or enter it in a customer design competition.
Get in touch if you have any questions or comments regarding our online design process and the finished product! Be sure to also read our previous post on designing personalised wash bags, just like the English football team.
Image from: Instagram Blog