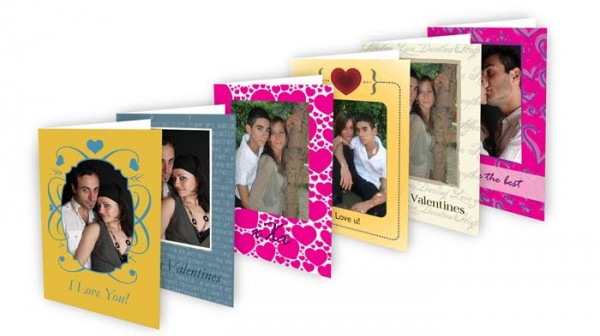 There are so many options when it comes to personalising our greeting cards. Prints, photos and text can be composed into highly personal and attractive greeting cards for any occasions. And Valentine's day is all about greeting cards. In America approximately 190 million Valentine's cards are sent each year. Try our Personalised Valentines Day Cards!
Giving Valentine's Day cards is usual for partners to give to each other but it's also popular to give them to your children or close friends. Valentine's day cards and Valentine's day gifts are all about showing love and there are probably many people in your life you want to show some love.
Why not make this Valentine's day the day when you give all those people you love personalised Valentine's Day cards? You can choose to order 12, 20 or 40 greeting cards so there is no excuse not to send cards to all your loved ones! You can use a different photo and different bit of text for every Valentine's day card.
Your group of girlfriends can all get cards with a photo from a holiday you all went on to remind them of your friendship. For your mum and dad give them cards with photos of you as a child with them and for a partner a romantic photo is ideal. Send many Valentine's day cards this year – personalised to each and every person – and they will appreciate your love and effort forever.
The cards are also great additions to Valentine's day gifts. If you've taken the time to create personalised gifts to give as Valentine's day gifts then don't downgrade when it comes to the card. It spoils the level of personalisation and display of affection. These great Valentine's day cards will impress this Valentine's day, take our word for it!