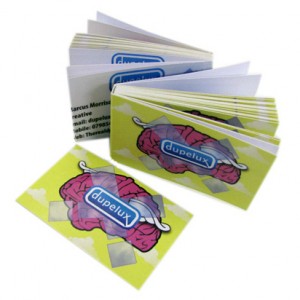 Now available on the Bags of Love website are our striking professional business card booklets. The booklets are sold in a pack of four books with 20 cards per book.
The business cards are bound in a peel off block encased in a wallet cover. The business card booklets are a perfect size to carry around with you, it's never been so easy to give out a business card whenever you need to!
They are ideal for designers, creative's and crafts people as one side of the card feature text of your details and the other a digital photo if you so please. Photographers, web designers, artists and architects look this way! Show off your work and get noticed with these booklets, we can nearly guarantee you a job! If you need ideas for your business to expand, these business cards booklets are a great start.
Contact us now to get the details of the card design and what requirements we have for the size of the picture.