Judy Garland – "For it was not into my ear you whispered, but into my heart. It was not my lips you kissed, but my soul."
Even though the year is just beginning and it's only January, it won't be long before February is on our doorstep and cupid comes knocking. Which means ideally we should already be thinking of how we are going to show that special someone we have in our lives how much we truly love them; and what better way to do just that, than through a Book of Love. So start looking back at your stunning photographs now, from last year, the year before or whenever!
Use this Valentine's Day to depict your most memorable and loving moments together. Find pictures that are both personal and meaningful. It is the day we profess our unconditional love, expressing how we truly feel about someone, and you can do exactly that; by making it last in a form of a book customised by you. Whether the Valentine's day gift is for him or her one can surprise their partner on the special day by showing how romantic, thoughtful and creative they can be with the gift. For example, portray the first time you ever met, the growth of your love, an unforgettable event for you both, or simply just use images of the two of you being together. You can decide everything that goes into your book giving you a total peace of mind, that your gift will be perfect for that special someone. Being able to personalise a Book of Love for your valentine will make this gift extremely special for the both of you. narrating your very own heart-touching love story on every high quality printed page; 24 in all. Through our website you can upload the 12 treasured photos selected by you, (includes one for the cover) to use and write a personal, loving message beside each image using one of the two designs we have available with ease.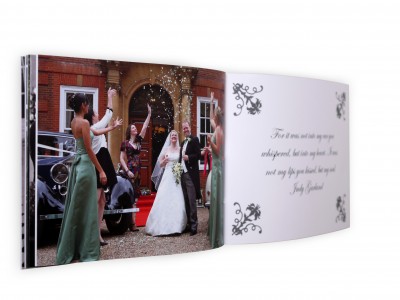 (Click on image to view video)
Last of all, another great reason to get your beloved one a Book of Love, is the express delivery service we offer, as your book will be ready and dispatched on the same day as you ordered it. Amazing! Therefore, whether you are a well organised person who has ordered this attentive gift in advance (well done you) or a person who just forgets till the day before Valentine's Day (we won't tell)… It will be ready on time and your loved one would be none the wiser.