Create your very own Valentine's Day Gifts
I have to tell you some shocking news! I just can't keep this fact to myself; I've never been good at keeping things to myself anyway. Everyone knows Valentine's Day is just a few days away so in case you haven't found anything for your Valentine, you'd better stop reading and start thinking of perfect gifts straight away! But please do think twice before getting some really cheap or unromantic Valentine's Day Gifts.
I mean, take for example all the Valentine's Day Cards which are available across the country. Get them in shops, buy them online or even make them on your own. You surely know that even some of the big grocery stores offer Valentine's Day Cards – some of them quite nice but others incredibly ugly and in plain words just cheap (and that's not only because of the low price). Create your own Valentine's Day Gifts and Cards and avoid nasty surprises when you present your Valentine's Day Gifts to your Valentine.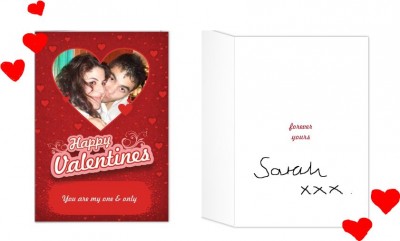 Personalised Cards with your photo and text
Personalised Cards for Valentine's doesn't necessarily have to be as cheap as 7 p, but you still can get them at very reasonable prices. We do have a special Valentine's offer at the moment: Create your own 'Be my Valentine – personalised cards' with your photo and your personal message and pay as little as 89p, only the delivery price in the UK.
Just your favourite photo of you and your sweetheart in a lovely heart shaped design with some text on the front and a personal message inside of the card.
If just the card is not enough for you, have a look around on the website, I am sure you'll find plenty more ideas for personalised gifts for your Valentine.