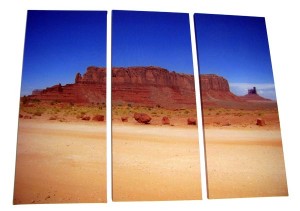 Photo canvas have proven to be very popular because as they allow you to display any photograph or image of your choice on the wall. The high quality photo canvas uses natural canvas with no plastic coating in order to give superb image reproduction. Once printed they are stretched tightly over gallery grade frames and have spacers added to ensure the best fit and longest life. All photo canvas prints are supplied with the appropriate wall fittings too so you won't need to root around the shed.
For an even more striking look, the triptych photo canvas prints one single image over three canvases. Traditionally these are displayed in a row with a small gap between each picture to give a tiled effect that is both unique and great looking. While this is the more traditional technique of doing it, that doesn't mean you have to be bound by tradition. You can opt for any display, any orientation for each of the pictures and, of course, you choose the image or the photograph.
What's more, for the triptych any number of canvases can be made, not just three. You could have a single image printed on four canvases and display them in a rectangular shape or have six printed and display them in a row. Triptych and multi panel prints really do look incredible and, as ever, the choices are yours to make. If you're not sure how an image will look when done, or you can't determine the best crop of a picture to use then let our design team do the work for you.
The Bags of Love triptych printing service can be used to display any type of image. Photographs work well because of the quality of the printing and the materials but you can any digital image as well as good quality scans or paper images. You could display your own artwork in a multi panel prints series of photo canvas prints to really show off your skills.