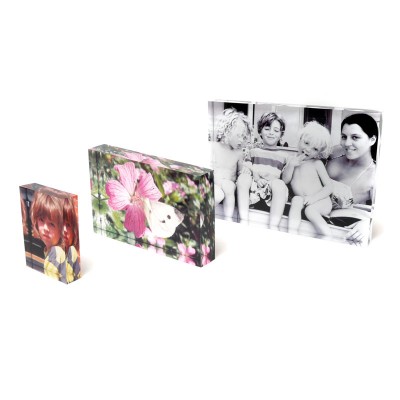 Gift Ideas – Modern Framed Photos
When you want to give someone a special photo in the shape of gift ideas  – perhaps for a co-worker who is leaving or for your girlfriend on Valentine's Day – there are many ways to do so. Circa 10 years ago the one and only option would have been to print the photo of your choice and then place it in a metal or wooden frame. Today those framed photos are rather old school gift ideas so join the 21st century by buying modern photo gift ideas.
3D Acrylic Photo Blocks
Gift ideas from your photos should be good looking, practical and modern. Those wooden frames only collect dust and they don't really scream innovation. Something that does scream innovation are photo gift ideas that have that extra bit of edge to them and acrylic photo blocks certainly have that. Imagine that special photo inside a glossy glass block with a 3D look? Well with the acrylic photo blocks that's exactly what you get!
No Fuss Photo Gift Ideas
The acrylic photo blocks are freestanding and display the photo from the front and back as well as around the sides creating that 3D look. The acrylic photo blocks come in three different sizes 4×3″, 6×4.5″ and 8×6″. Your photo can be placed in any of these size blocks – they are not like old school frames when you have to match the size of the photo with the frame! You simply chose the photo and size and we take care of the rest. Easy peasy!
Acrylic Photo Blocks For All Occasions
The acrylic photo blocks make unique gift ideas for all occasions. That one special photo will look fantastic in a glossy block. Like we've already mentioned, frame that special photo for a co-worker who is leaving so that he or she will remember you forever. And for new parents it is simply superb to place a baby photo in an acrylic photo block so that the mum and dad can enjoy their baby 3D even when framed! They are also great gift ideas for birthdays, Christmas and Mother's and Father's Day.