Personalised Photo Wallpaper
Personalised Wallpaper
Make personalised wallpaper with our unique bespoke printed wallpaper with your own pictures, design or photo collage. Turn a blank wall into a feature wall. Design personalised wallpaper and have it custom printed. Press start design, enter your wall dimensions, upload the photos and we do the rest!
UK delivery: £8 (other)
Western European: £18
Other European: £19
North America: £26
Australia / Japan: £29
Rest Of The World: £29
Create photo collage Wallpaper

[more info]
Automatic Photo montage
Create your montage in 5 easy steps!
1 Press Start Design and select product options
2 Upload your photos
3 Click and select photos to montage in the gallery
4 Select montage style & preview
5 Add to design, preview product and proceed to buy!
Need a bit more help?
Don't be shy, it's a whole new concept!
Contact us and let us explain
Too many photos will result in very small images, so we will advise a maximum number of photos per product size. Contact us if unsure.
Custom Printed Wallpapers
Your photos, or collage on wallpaper
Free montage maker app - design on-line
Non Shiny, Matt nubuck feel
No minimum order
Reviews of
Photo Wallpaper
Hi thanks for the photo wallpaper - it has come out better than I had imagined - also delivered 2 days after uploading it to you

Was very happy with the wallpaper i received. Good price. Good quality, thick paper. Will use again.

My daughter designed her own wallpaper but calculated the measurements incorrectly. Called customer service who alongside one of the designers went above and beyond to sort a solution. End product amazing just like the services. Would highly recommend and hoping to use bagsoflove again in the near future

Absolutely love bags of love! Fanatic quality for the price I paid. I will be ordering more wallpaper and fabric prints again very soon!

I recently ordered personalised photo wallpaper. Absolutely fantastic. I love it. Great quality. Quick efficient delivery. The only tiny comment. I would have liked to be able to "tweak" the photo layout when using the app but several reshuffled got me close to the layout required. I'm already recommending this site .
Custom Printed Wallpaper For A Feature Wall
Scaling your photos up to cover the entire surface of a wall with custom personalised wallpaper will lift your living space to a new level! Use Contrado Wallpaper to create a feature wall in your home or business that's guaranteed to have a huge impact! Print any image or pattern you like, or even create a montage of treasured family photos.

Our special image-printing wallpaper is a bright matt material with exceptional print quality. The material has a soft nubuck feel to the surface, and is super strong- so no need to worry about tears and rips. We use only eco-friendly water-based inks, and no dot-matrix patterns as we use continuous tone printing (3,000dpi equiv.). Our bespoke wallpaper is used by Maharishi, Harvey Nichols, Paul Smith shop interiors, and several ITV sets; and of course, it's used and enjoyed in living rooms, bedrooms and public spaces across the land. Ideal for use in busy passageways and high-traffic corridors like hotels and universities as it won't tear or scruff. Great fun for kids bedrooms, or as a feature wall in a dining space.
How To Price Your Personalised Wallpaper
Measure your chosen wall accurately. We price by the square metre, so if your wall measures 3m x 3m, you'll need 9 square metres of wallpaper. Press start design above, add the dimensions X and Y of your wall to our system, and we will price the area in our system for you. We plan out the drops and width of the your paper rolls, as well as applying bleed areas, and trimming your design so there are no white spaces or borders.

Once you've set your dimensions, simply upload your images and place using our online design system. We'll take care of the rest, and our artwork team will check your images before we print for any obvious mistakes.

We'll supply an installation guide with delivery, or you can download a copy here.
How To Order Wallpaper
Once you know your wall size measurements, you are ready to place the order. Click on the start design button above. Enter the exact dimensions of the wall and then upload images or make montage design to fill the area. We will plan the drops and width of the rolls for you.
What You Get With Your Custom Wallpaper
Once we have your order we test the images to make sure they will print well. We print and cut our own rolls in any dimensions, so we decide how wide the rolls are to keep the number of individual strips as low as we can. This reduces the splits on the wall for best look and least work when being installed.
Wallpaper Details And Features
The details and features of personalised wallpaper will do wonders on your home interior. The imaging wallpaper is wipe-clean friendly and scratch-proof, so is very suitable for busy family homes. You can have custom wallpaper in days that will brighten up your living room, dining room or kitchen for the whole family to enjoy. The main features of our photo wallpapers include: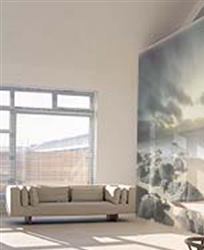 Brilliant print quality with sharp pictures and deep colours
Super tough - can't tear won't tear or scuff
Great feel and texture - smooth nubuck matt artistic look
Thick, like 250 gsm paper, but much lighter
Non-shiny
Non-solvent - eco friendly process on recycled material
Good sound absorption and low sound reflection
No scratch or abrasion to either the print or the material
Wipe clean and dries easily without print damage
Good thermal insulation due to the thickness
No print stain transfer or paper fibre release
Proof, layout plan and installation instructions provided
Great for photo montage wallpaper
Measuring Premium Custom Wallpaper For Creative Environments
You need to take care with your measurements. Planning is vital and we can assist you more if you measure correctly so we supply the finished photo wallpaper that fits perfectly.
Planning Printed Wallpaper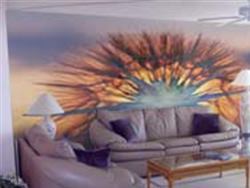 Use a retractable tape measure in metric or imperial. Measure carefully in different places on the wall and note dimensions. Our custom wallpaper comes on a roll and widths vary from about 80cm wide to 120cm wide depending on the print plan we devise. Just choose your photo or image and give us the dimensions of the wall and we'll do the rest.

You hang it like normal wallpaper but, there the similarities end. Be creative. Consider huge montages, abstract designs, newspaper cuttings, or one giant theme pictures like a beach or moon setting to create the right scene or mood for your space.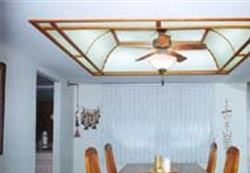 Measuring needs to be done very carefully and we need to make sure your entire wall area is covered. Please measure your wall in three or four places for height and for width. This is because walls are not always perfectly square or the building may have moved causing variation. We will print the image with only 5-10cm bleed all around from the widest or tallest measurements - so be certain you measure correctly. Call or chat, if further assistance is required.
Fitting and Installation
We supply an installation guide detailing the drops and installation procedure for your custom design, along with wall pasting instructions. The overall wall size is broken down into sections and wallpaper is supplied as separate drops that butt up together. The personalized photo wallpaper is hung in the same way as conventional wallpaper, and full instructions will be provided with your order. Normal wallpaper paste like Solvite Extra Strong or Murabond work well.
Why Not Try Montage Wallpaper?
One of the great things about custom printing personalised wallpaper is that you can print whatever you like.

With such a huge space to cover, your images are going to appear very large: so why not consider printing a large montage print to show off your treasured collection of family photos? We design your collage automatically in our system, so it couldn't be easier!
Printing Your Photo or Map on Wallpaper
Photo wallpaper can turn your child's room into an imaginary fantasy land, give your new business a friendly and approachable look, or transform a hallway to a chic space. Use photos from holidays, photos of city skylines, maps, landscape photos and portraits to make imaginative custom wallpaper that will create innovative and exciting spaces for indoor and annex room design purposes. Map wallpaper is attractive and can capture your local area: or you may even find vintage maps that can be printed in your town archives or local library.
Personalised Wallpaper Borders Also Available
Make your own personalised wallpaper borders too. Great for kids room wallpaper. See our personalised wallpaper borders.
Disclaimer:
Once the material has been applied to the wall, the product is deemed accepted and cannot be claimed as defective due to variations in mounting, adhesives, handling, and local environment (including humidity, heat, weathering or mould). Once you decide to cover the wall, we cannot be held liable for the alteration to the wall that is encountered when preparing or pasting this product. It is extremely rare that anything unusual happens, but we are here to advise if there is anything you need to discuss before installation.
You May Also Like:
Your photo printed on special roller blind material and then custom made into a roller blind complete and ready to hang at your window. Waterproof (..)

Wall hanging custom printed for you. Design your wall hanging online in our design system and create something special for a new home gift idea.

Custom curtains. Design your own curtains for kids rooms and home. Door curtains or booth curtains. We make them all large or small.