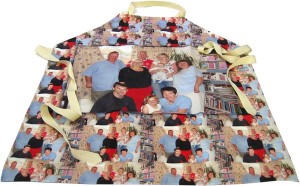 Buying gifts for some people can prove to be an impossible task. If the person you are buying for is the kind of person who already have everything, then photo aprons are good gift ideas. Why? Because a totally personalised apron with your photo and text can't be found anywhere so the chances of them owning one already are slim!
Our aprons are printed from edge to edge which means that the apron is completely covered in the image chosen. Other online photo gift companies only print an A4 sized image on the chest of the apron. Nothing like our stunning edge to edge printed aprons!
Personalised aprons can feature you or the recipient or maybe their favourite chef or dish. Ideal gift ideas for men as well as stunning gift ideas for women.
A photo apron can make a highly personalised and incredibly fun gift ideas for anybody close to you. The image on the apron can represent people, places, hobbies, or interests and there are really very few limitations when designing personalised aprons so you can let go and have fun yourself while creating this stunning personalised gift.