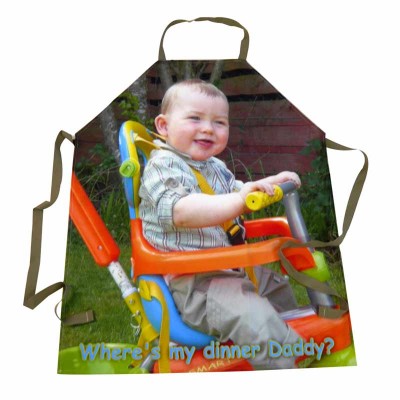 Fun Personalised Presents
Personalised aprons make fantastic kitchen gifts for so many different occasions. Personalised presents such as the personalised aprons are ideal housewarming gifts, birthday presents, Christmas gifts and wedding anniversary gifts. Personalised aprons are fun gifts which can be used in the kitchen, when in front of the BBQ in the summer or for other garden, crafts and workshop activities. Other printing companies might offer personalised aprons as well but we are unique as we print edge to edge!
Personalised Aprons For The Kids
This means that the entire personalised apron will be covered in your photos or any other images of your choice. No little box of the photo in the middle of the apron – just one big personalised apron covered in photos! You can also add text to the personalised aprons which goes on top of your image. The photo aprons are made from a soft and comfortable material so no plastic or waxy feel. These personalised presents come in two sizes as well as a kid's size so the personalised aprons make brilliant personalised gifts for kids too.
Personalised Aprons For Anniversaries
Giving the kid's personalised aprons is a great way to get them to learn about cooking and baking, perfect for birthdays and Christmas. They also make tremendous housewarming gifts as they are useful for the new home. And for wedding anniversaries why not add wedding photos in a photo montage and the date and location of the wedding to personalised aprons? But photos aren't always necessary. You can also add text such as "Mr and Mrs James" or "Mrs Williams – Head Chef" for personalised presents for anniversaries.