Baby Comfort Blankets
from

£19.00

Your personalised comfort blanket is such a special memento and useful accessory for both mother and baby. Made from cuddly soft 285 gsm fleece, they're the ultimate way to keep your little one warm and feeling safe. Choose from 3 cute design styles and personalise the text to state your baby's name, date of birth or another sweet message.
Pay after delivery

Add another and save....
Create photo collage Comfort Blanket

>
Automatic Photo montage
Create your montage in 5 easy steps!
1 Press Start Design and select product options
2 Upload your photos
3 Click and select photos to montage in the gallery
4 Select montage style & preview
5 Add to design, preview product and proceed to buy!
Need a bit more help?
Don't be shy, it's a whole new concept!
Contact us and let us explain
Too many photos will result in very small images, so we will advise a maximum number of photos per product size. Contact us if unsure.
Comfort Blanket Features
Made from soft Polar Fleece fabric, 285 gsm
50x50cm blanket, 3 design patterns
Choice of 3 backing colours
Handmade to order in London, UK
10 year guarantee on print & material
Help settle your baby with a beautifully printed custom comfort blanket.
Featuring their name, date of birth or another sweet message alongside a cute animal design, this is a unique gift that doubles as a sentimental keepsake. Even whey do finally grow out of needing their 'blankie', you can keep it safe and bring it out in years to come as a novel way to reminisce and tell stories. We have over 13 years of blanket printing experience, so you can trust us to create something magical.
Lovingly handmade in London, UK
Made from cuddly polar fleece
Anti-pil, non fray 285 gsm material
Water repellent & fire rated fabric
50x50cm square comfort blanket
Choose from 3 backing colours
Permanent eco-inks won't fade
Ideal size for babies
Personalise with name, D.O.B, text
Choose from 3 cute animal patterns
Machine washable
10 year guarantee on print & material
Reviews for
Baby Comfort Blanket
Easy To Use

I ordered 2 items, and both are very good quality, the site is very easy to use and navigate and from ordering to receiving the product I could not fault the service with updates on my order.

Never disappointed

Always love the stuff Bags of Love do, never disappointed.

Have had several items from this company and they have never failed to deliver. Always good quality and as described on website. Lovely. Thank you.

Great service, website and product. Such fast service and delivery!
Care: Machine wash at 30°c. Print quality and colours won't fade over time even with washing and daily use. Tumble dry on medium or hang to dry flat.
Handmade by our expert seamstresses in London, UK, your baby comfort blankets are a wonderful gift, made with love and care. Using a specialist printing process that fuses the ink deep into the fleecy fibres, we can guarantee a clear, vibrant and permanent print. Choose from 3 adorable patterns, all featuring a cute cartoon sheep; 'Night Night', 'Sleepy Farm' and 'Sweet Dreams'. You get to replace the text in the selected print area, perfect for stating the baby's name and date of birth. Not only is this a lovely design, but it helps to identify your child if they get lost with their blanket. Cut to size and sewn together with a second piece of fabric in your choice of backing colour, it's a thick, warm, snuggly comfort blanket.
Do you Have any Design Tips or Ideas?
Choose from 3 ready-designed patterns to add your child's name to. We print this design onto the front, along with your chosen text, and sew another piece of fleece to the back in your chosen backing colour. Choose from soft pink, pale blue or ivory beige.
Comfort Blanket Design Choice: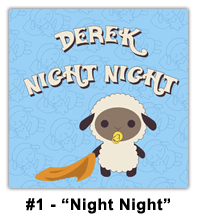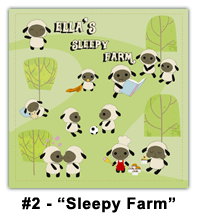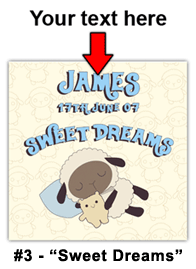 Treat the new bundle of joy in your life to a personalised comfort blanket, and let it become a part of their childhood and a fond memory when growing up. Click start design above and create something they can cherish forever.
You may also like: