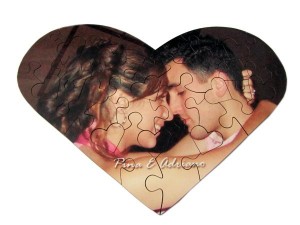 Giving Bags Of Love are perfect gift ideas when you are thinking to surprise someone who you love, someone in your family, or a friend, then what you want is to find something original, personal and unique. Excellent if you need gift ideas for Valentine's day.
This heart shaped photo jigsaw puzzle is the ultimate love gift. Personalise this high-quality puzzle with a picture of you and your loved one and a piece of text, perhaps with your names, the date you met or simply "I love you".
The heart shaped jigsaw puzzle comes in a silver tin that display the puzzle picture. If you look close you can see that some of the pieces of the puzzle are actually heart-shaped! Come February and you are looking for gift ideas for Valentine's Day you know where to find the ultimate love gift!