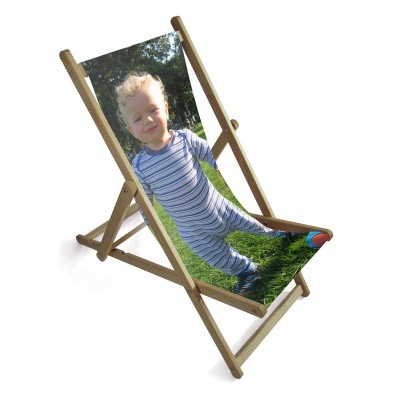 Seasonal Gift Ideas
The recent rising temperature is getting a lot of people back in the summery mood all over again. We've beat the winter blues and summer is finally approaching once again. For holidays, birthdays and other special occasions in the summertime it is practical and thoughtful to come up with gift ideas people can use in the lovely weather. You could call it seasonal gifts ideas! By buying gifts after the season the gift ideas are contemporary and creative. 
Summertime Fathers Day Gifts
Father Day is happening in June so summery fathers day gifts are perfect. He'll love gifts that he can use for summer activities such as socialising, relaxing and travelling. The personalised deckchairs are ideal gift ideas for relaxing and socialising in the garden, on a day out to the beach or even on that holiday abroad. The flexible personalised deckchair is made from durable European Beech wood, sourced from FSC certified suppliers, with a personalised canvas seat. 
Personalised Gift Ideas For Dads
How you personalise gift ideas for dad depends on the old man's life situation and design preferences. The personalised deckchair seat can be personalised with a pattern, photo or graphic of any kind. We can add our own designs like the Graffiti print, Pop Art treatments and exclusive patterns. For the proud new dad a photo of his child is ideal and for the football crazy dad add an image of his favourite team – gift ideas for dads are as unique as your dad. 
Fathers Day Gifts For Travelling
Other great fathers day gifts for the summer months are personalised bags he can use when going away on holiday. The holdall is great for shorter trips away but it also works perfectly as a beach bag. The personalised wash bag will keep his toiletries protected when travelling and hitting the beach with the sunscreen. For relaxing times at home give him a photo book he can flip through sitting in his deckchair in the shade during a hot summer day.