This year there is no need to resort to out of date chocolates; get a Father's Day gift you Dad will truly appreciate and treasure.  Why not get a personalised Father's day gift? A print of yourself or your family will be a cherished, creative and constant reminder of the love and respect you hold for your old man.
Our fathers supported us at every stage; during our first months, our childhood, our teenage years, and beyond. Get your dad something truly extraordinary that will make him smile on his special day. During life, we often experience phases of distance with our fathers; perhaps because we are working very hard, or have other important commitments to attend to. Whatever the cause, a wonderful gift from Bags of Love might be the best way to show him your love this Father's Day.
Personalised Father's Day Gifts To Thrill Your Dad!
 A custom keyring is a great way of showing him your affection and appreciation; a very useful and high-quality gift that he can carry around with him at all times.
A personalised keyring is a lovely way to remember great family moments in your life that he will appreciate for many years to come. Some more obvious Father's Day gifts might include items such as ties and socks, but this is your opportunity to break the mould with something unique that you design online.  Our keyring is created in-house here in London with quality leather. Most people have no idea that leather can be printed because hardly anyone can do it, but here at Bags of Love, we can.
Unique Photo Canvas Prints: The Filmstrip Montage
Personalised photo canvas prints are even more than gifts though, they are home interior items that will be the centre of attention in the home. This is where you really got the chance to get it just right and create photo canvas items your dad will love. Fathers day gifts should bring out emotions and display the love and appreciation you have for your dad. The filmstrip montage print is a unique and personal gift dad will love.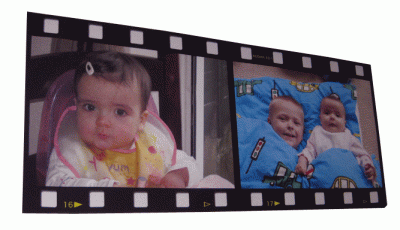 The filmstrip montage is just like negatives and movie film reels combined with photos of your choice. It's a canvas collage print with a classic simple style of border making a brilliant personalised gift for dad. Choose two to seven photos to go on this panoramic filmstrip line on photo canvas to create a short film of love for your dad.
Photo Cubes Fathers Day Gifts
If you want to display a couple of photos at the same time in an original way you should go for photo cubes. The photo cubes allow you to display up to six photos on the soft handmade cube! They are playful and modern gift ideas using your photos in a way your dad will never have seen before. You can choose six photos of you and your dad together, six photos of your dad to make him a self-indulgent like shrine or six photos of yourself as a reminder of his wonderful daughter. Have the six photos in colour, black and white or even sepia! The photo cubes start at 4″ and go up to 20″ so these Fathers day gifts make great new additions to the home decor and the larger photo cubes can even be used as a seat.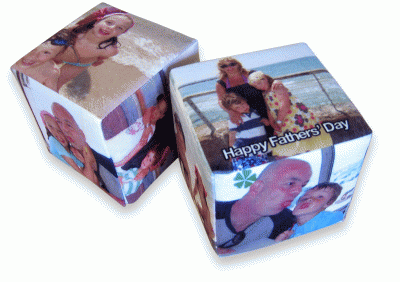 Buy Father's Day Gifts To Match Your Dad's Interests
All dads are different. The stereotype that all dads are into football just isn't true. Many dads are into their sports but many of them have totally different interests and hobbies. You might have a dad with green fingers who love spending time in the garden or one with a passion for cooking. Your dad might be into art, theatre, music or travelling or he might be a gadget freak. Whatever interests your dad has there are always options of personalised gifts to give him when you need important gifts such as Father's day gifts. 
The Gadget Dad
If your dad is the kind of guy who finds it absolutely necessary to have the latest iPad, iPhone, electronic notebook or wireless reading device then buying him perfect Father's day gifts won't be a biggie. You wouldn't have to buy him the expensive gadgets yourself as he's already lined up outside the Apple store for five hours; all you need to do is get him Fathers day gifts that match the gadgets. And what's better than high-quality personalised cases?
Our customised cases for laptops, iPads and the Kindle are all made from neoprene padded wet suit material and finished with black piping, a chunky zip and two sturdy pullers with comfort thumb tabs. The soft case is protective yet sleek and the best part is the personalised cover. Put any image on the back and front of the case so that dad can enjoy his gadgets with the comfort of knowing that they are protected as well as he'll look at a family photo daily.
The Sporty Dad
Your dad might be a sporty dad, the one who does sports himself or prefers to watch it, either way, there are fantastic fathers day gifts for the dad interested in sports. For the father who goes to the gym, plays football or any other sport give him personalised wash bags or holdall bags so that he can stay organised in style.
For the dad who counts watching sport as a passion get him a personalised bean bag so that he can watch it all in 100% comfort.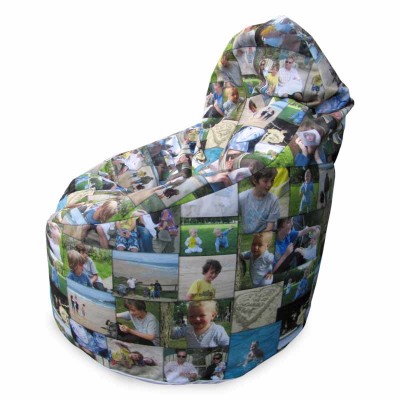 The Garden Dad
Does your father take pride in his garden filled with flowers and vegetables? Or does he simply love spending time in the garden in the summer sitting down with a cold beer or feed the family by the barbeque? If your dad spends most of the summer months in the garden give him fathers day gifts for the garden.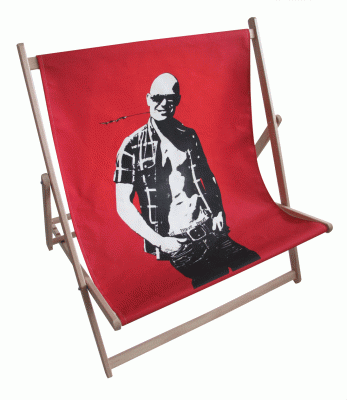 A deckchair is ideal for the dad who enjoys relaxing in the sun and for the barbeque master why don't you get him a personalised banner praising him for his skills by the grill!
The Disorganised Dad
If your dad struggles to keep up with what's happening from one day to the next, why not create a custom calendar for him to help him keep track?
Why not choose your favourite 12 photos of you and your dad and choose a personalised message for the cover and make a photo desktop calendar for his office desk? Or you could opt for a wall calendar for something a little beefier.
Personalised Father's Day Gifts And Greeting Cards
In the UK, 7 million Father's Day cards are sent each year, so why not include this holiday staple in your gift?
That photo of you and your dad is worth more than any expensive watch or digital gadget because it holds a precious memory that you and your father have shared.
Personalised Gifts For Relaxing
We've already gone through the different types of interests your dad might have but what about fathers day presents for the dad who just likes relaxing at home? Your dad might not have a lot of spare time so when he does have that time his favourite thing to do might be spending quality time with his family in your home.
Perhaps your dad enjoys watching football on Sunday's, watching films and playing Nintendo Wii with his kids and entertaining guests throughout the year? For those relaxing moments he needs personalised items, so give him personalised gifts for Fathers Day. Why not consider a personalised blanket or a super soft photo cushion?
Home Interior Fathers Day Presents
For the dad who enjoys relaxing in his home but also takes great interests in the home decor, there are many personalised gifts that can improve the home interior. Blow up one of his favourite photos that he took on a holiday into wallpaper for his bedroom. If you think mum will oppose, go smaller with a wallpaper border of holiday photos.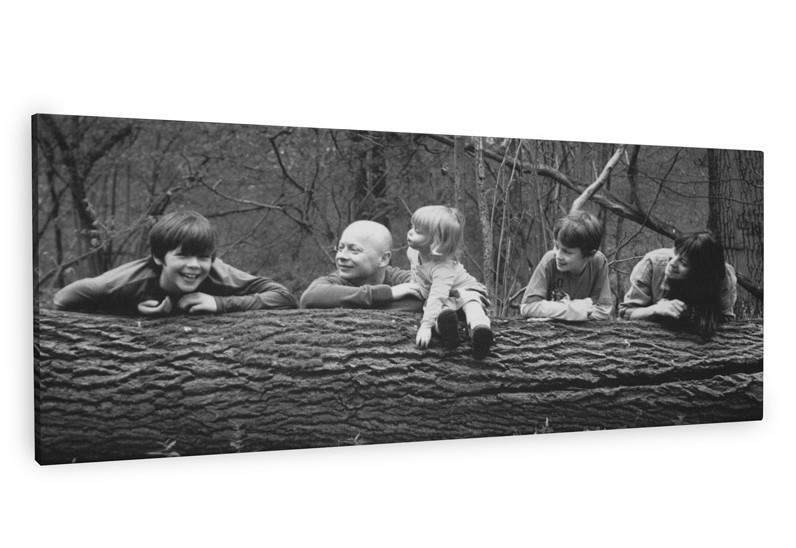 Other beautiful home decor gifts suitable as fathers day presents are canvas prints – choose from black and white, sepia, triptych, and four-way splits. You could opt for folding screens which can be placed anywhere in the house.
Fathers Day Presents For Activities
Or give your dad fathers day presents which he can spend some time on. The personalised photo jigsaw puzzles are great activities for the whole family to join in on. Or let him chill out with a jigsaw puzzle on his own to relax after a stressful day.
A photo book is also a great fathers day present for the whole family. Instead of watching the TV one evening why don't you gather the whole family sit down together on the living room sofa and look through the photo book filled with memories.
Our Top 7 Father's Day Gifts
7. Personalised Aprons
For the master chef: Does your dad love to host barbeques? Is he a wannabe Gordon Ramsay in the kitchen? A personalised apron with makes a great gift for the father who loves to cook.
6. Customised Bone China Mug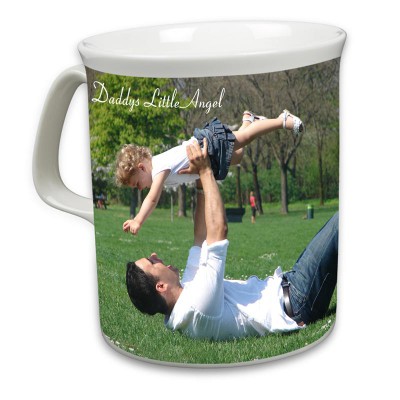 The never-fail gift: Although Dad is no mug, he will love having his very own personalised mug from you! Upload your design here to give him something extra special for his cuppa.
5. Customised Life Book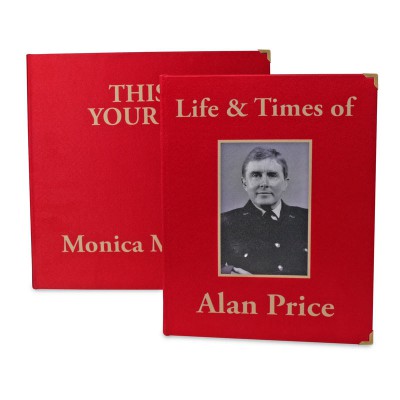 Celebrate dads life so far: Show dad just how much he has achieved and how much he means to you with our beautiful Personalised Life Book. Design one for your dad here.
4. Customised Wine Bottle Cooler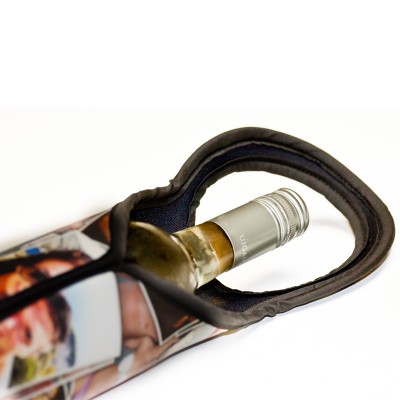 Keep his wine cooler than him: If your dad loves a tipple,treat him to our personalised bottle cooler! Perfect for keeping his favourite vintage nicely chilled! Start designing one here.
3. Personalised Leather Wallet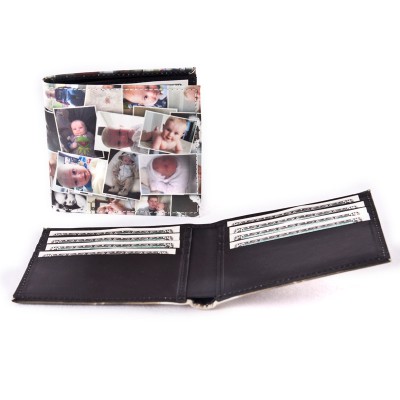 A personalised essential: Treat your old man to a fabulous soft leather wallet. Make it all the more special by uploading a photo or design onto it. Start creating one for your dad here.
2. Customised Leather Card Holder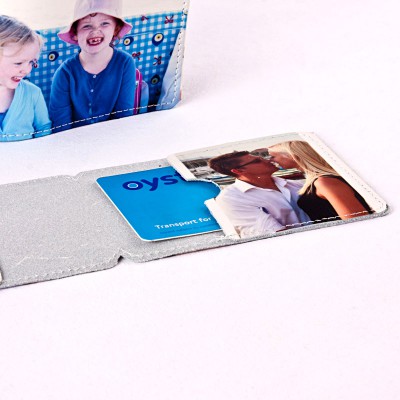 Dad means business: Keep his important cards safe and stylish with our customised leather card case. Perfect for a busy business kind of dad on the go! Make one for him here.
1. Personalised Phone Case
For the smart(phone) dad: Protect dad's favourite gadget with a sleek and customised case. Design one for dad here.
Our Top 10 Tips For a Fab Father's Day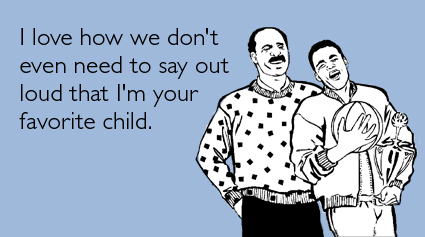 1) Let dad have a nice long lie-in, without making him feel guilty that it's 10:30 am and he's still in bed. For one day at least, we'll allow it!
2) Still in bed? Why not bring him breakfast, made by yourself (or a bowl of cereal and toast if you're feeling particularly lazy) and the newspaper while you are at it.
3) Give him a card and a present while he is enjoying his brekkie. If you are still stuck for inspiration, then we have a lovely Father's Day gift page, where you will be able to find a whole load of gorgeous goodies, which you can personalise yourself!
4) Are you the artistic or wordy type? Why not create his card yourself? You could even write him a little poem or letter, saying how much you love him and what he means to you. The sentimental types will LOVE this and you might even get a few tears. Good ones mind you, not the bad sort!
5) While he is getting up and dressed, why not wash his car (or bike or skateboard if he is a cool skater kind of dad)? Make it all shiny and sparkling when he sees it. It will make a great surprise!
6) Present him with a book of promises, e.g. I swear that I won't bug you when football is on. Promise to give you a hug when you are having a rotten day. I promise to not get stroppy and throw a diva fit when I don't get my way. Trust us…he will love this!
7) Plan a fun day out. Figure out what he likes to do best and plan a day centred around it. Fan of the footie? Book tickets to a match or grab a ball and go for a kick-about in the park. Dad's a foodie? Take him out for a slap-up lunch. The smart sort? A day at a museum or gallery would be amazing!
8) Spend the day as a family. It's not always easy to dedicate a whole day to the entire day, but do it for him.
9) Cook him an amazing dinner when the day is done. Plan the meal ahead by asking what his perfect dinner would be. Then (as best as you can) try and make it for him.
10) Above all else, tell him that you love him.
Presents for Awkward Dads: 9 Father's Day Jokes, One-Liners and Gift Ideas
Whether you're a daddy's princess or a proper father's son, your dad has no doubt made you cringe. You spend your life looking up to him, but all it takes is an embarrassing dad joke for the façade to fall away. You notice his socks and sandals, the slight snort in his laugh and you see him for what he really is. An uncool, awkward dad. But he's your uncool, awkward dad, so his legendary status is reinstated almost immediately. Yet despite the eternal love we have for our slightly behind-the-times fathers, we still need presents for awkward dads at our disposal. More specifically Father's Day jokes one-liners and gifts. Just in case we need to remind them of their place in the family hierarchy of humour.
The following dad joke gifts should relate to pretty much everyone. He might be in the legion of fathers who use the classic dad joke as a primary tactic to humiliate, or he might genuinely think they're hilarious. However, he dispels his comedy gold, show your appreciation this Father's Day with these funny presents for awkward dads.
I'll call you later. "Don't call me later, call me Dad!"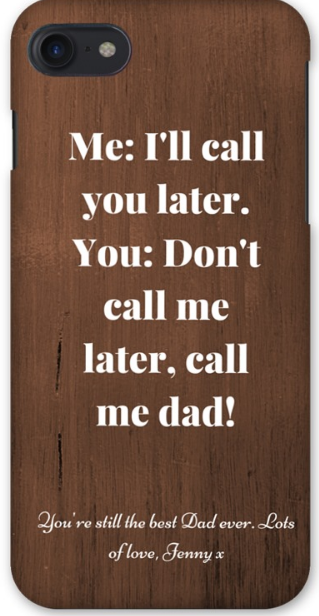 When you're genuinely just trying to exchange information with your pops but he thinks it's the perfect time to crack a funny one. You sigh in disbelief that he's still trying this joke 15 years down the line. You didn't laugh then, and you don't laugh now. What's even worse is that this joke was always delivered with the utmost enthusiasm, in the presence of your mates. If you had a number for the ground, you'd call it to swallow you up. But I have to say, it looks fabulous printed onto a custom smartphone case.
Have you heard of the band 1023mb? They haven't got a gig yet.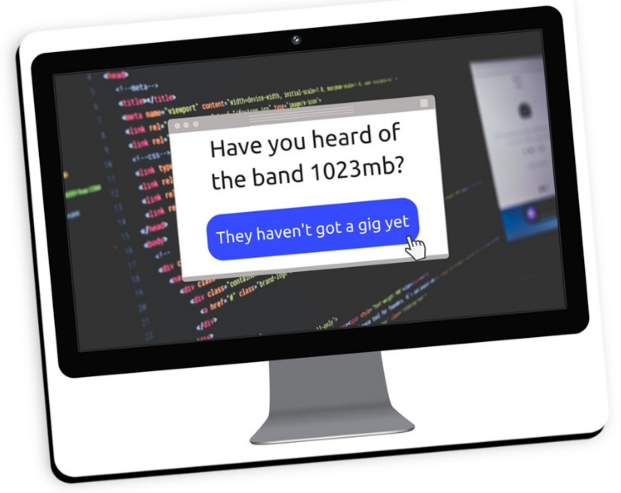 Dads love tinkering around with cables and installing more RAM into their systems – whatever that means. So get him a customised mouse mat printed with this surprisingly smart gag. As he's browsing the interweb for a new scart lead, (I swear that's all they do) joke presents for dad like this will let him know you 'compute' with his sense of humour.
I'm reading a book about glue. I can't seem to put it down.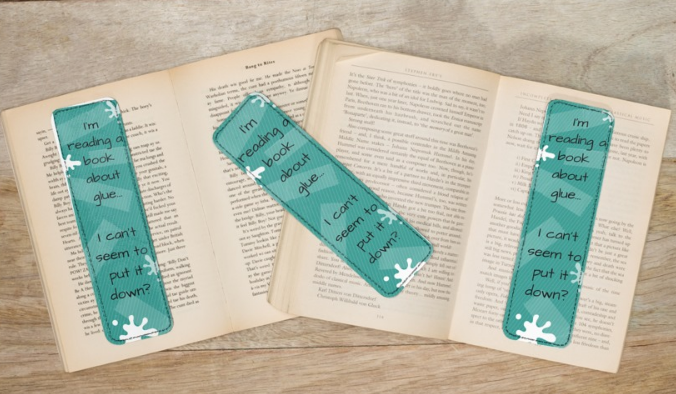 Dad banter at its finest. Although you see it coming from a lightyear off, I bet you can't help but raise the corner of your mouth ever so slightly. At the end of the day, he's just trying to make you laugh even if it's at his expense. Solid dad behaviour that'll hopefully 'stick' with you for when you're a parent.
I used to hate facial hair, but then it grew on me.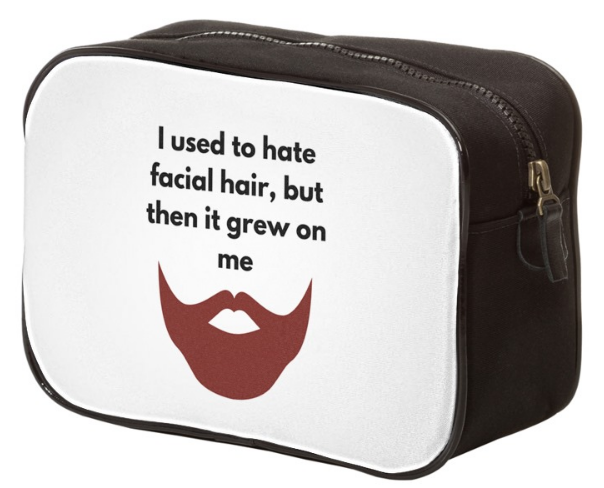 He says, whilst he's trimming and grooming his beard. You may have heard this a thousand times, but the obvious simplicity is something you can't deny as anything other than genius. Have it printed onto a bespoke men's washbag and make his morning routine one filled with hil-hair-ity.
What did the grape do when it got stepped on? It let out a little wine.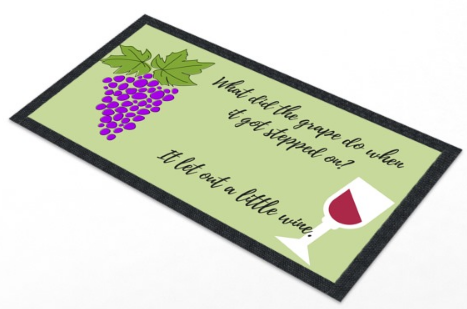 This joke has double the chance of escaping his lips; when he's eating grapes and when he's opening a bottle of wine. When I think of this joke, I also hear that silly put-on voice for the word 'wine', as though emulating a squished baby grape. (I've got to admit, 'squished baby grape' sounds immensely cute!). Annoying or not, it makes for a great quote to spill onto a custom bar mat, don't you think?
Want to hear the joke about paper? Never mind, it's tearable.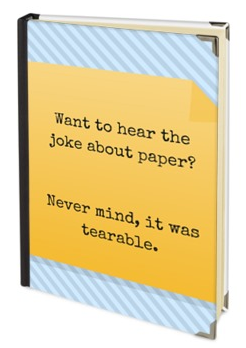 Nobody in the history of ever wanted to hear a joke about paper. But I have to admit, the punchline is borderline brilliant. Printed onto a personalised address book or notebook gives this joke deserved acknowledgement on its preferred medium.
Why did the coffee file a police report? It got mugged.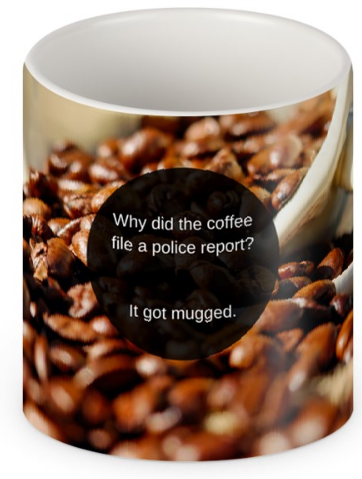 What better gift to emblazon with this classic joke than a personalised mug? As your dad sips away, he can chuckle to himself at the sheer brilliance of this pun infested dad joke gift. Just be warned, when his other dad mates pop over for a cuppa, an hour of relentless one-liners may ensue. It's the worthy sacrifice you make when you buy joke presents for dads.
Two peanuts were walking down the street…one was a salted.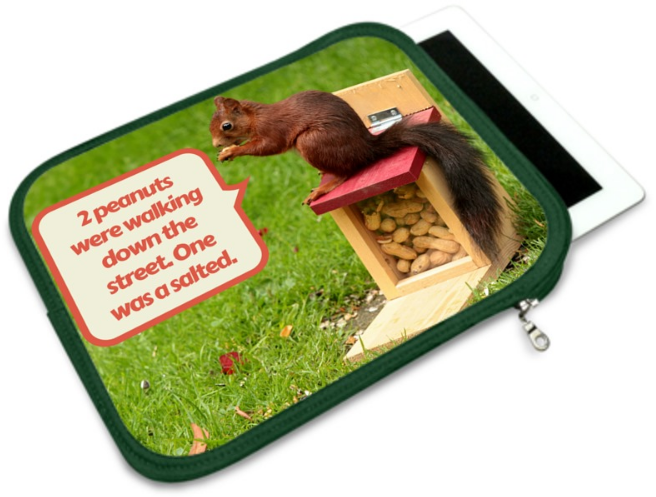 It wouldn't surprise me if this corker was invented on a bar stool at someone's local, as they tucked into a pack of KP nuts and some Scampi Fries. If you print this nutty joke onto an iPad or tablet case for your old man, he'll have a smile on his face wherever he goes. Whether that's because of the joke or the thought of tasty nuts, I don't know. I'm not here to judge.
I used to have a job at a calendar factory but I got fired because I took a couple of days off.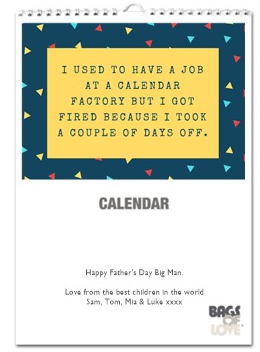 When he blurts this one out at your next family gathering, you know he's been biding his time waiting patiently for the right moment. Whilst he may not be able to wait two minutes for a cup of tea, he is the master of holding out when it comes to comedy timing. Print this joke onto a personalised calendar and it might encourage him to remember your mum's birthday, their anniversary or when the car has to go in for its MOT. Only joking, he's not that forgetful; of course, he knows when the car goes in for its MOT! He probably buys it a Good Luck card.
I hope that tickled the sides and gave you some humorous inspiration to go and create Father's Day presents for awkward dads. Want to recreate the banter? Click the banner below to design a gift and unleash your inner wisecrack.