It's ready! Photo gifts are a great way to add color and personality to any kitchen or table. A personalised and hand-sewn apron will satisfy even the most demanding chefs. It can be customized by printing a photo or a photo montage on the entire surface of the apron. Personalised aprons are wonderfull gift ideas for mothers, grandmothers and for all those people who like to spend time behind the kitchen counter.
Tablecloths and napkins
Personalised tablecloths and napkins are perfect photo gifts for a birthday party, wedding or any other type of event that requires an artfully prepared table. They are  customized using all types of photo montages and graphic, or just with text and are really cool. Personalised tablecloth bring an attractive and unique feature to the table. Personalised tablcloths are available in 5 sizes and 3 shapes: rectangle, square and round.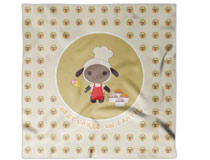 Coasters and placemats
Coasters and placemats are among the best  photo gifts not only to decorate the table with your most meorable photos but also to mark your territory. No one will ever dare take your place from you  if you prevously reserved it with photo placemats. Photos are printed on laminated wood which makes them particularly resistant; Furthermore they are also very easy to clean without the risk of fading color.