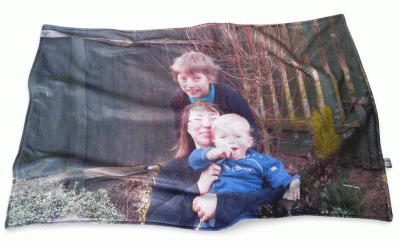 Personalised Gifts For Relaxing
We've already gone through the different types of interests your dad might have but what about fathers day presents for the dad who just likes relaxing at home? Your dad might not have a lot spare time so when he does have that time his favourite thing to do might be spending quality time with his family in your home. Perhaps your dad enjoys watching football on Sunday's, watching films and playing Nintendo Wii with his kids and entertaining guests throughout the year? For those relaxing moments he needs personalised items, so give him personalised gifts for Fathers Day.
Fathers Day Presents For Lounging Indoors And Out
There are some brilliant fathers day presents for lounge sessions on his own or with his family in front of the TV. Items like photo blankets, photo cushions, bean bags and floor cushions are ideal for living room fun. Make him a photo montage blanket full of photos of him and his family. A photo montage bean bag is another fantastic fathers day present – he can spend football Sunday comfortably lounging in his custom made bean bag! For outdoor fun in the garden or in the park during the summer months the personalised deckchair is a perfect option.
Home Interior Fathers Day Presents
For the dad who enjoys relaxing in his home but also takes great interests in the home decor there are many personalised gifts that can improve the home interior. Blow up one of his favourite photos that he took on a holiday into wallpaper for his bedroom. If you think mum will oppose, go smaller with a wallpaper border of holiday photos. Other beautiful home decor gifts suitable as fathers day presents are canvas prints – choose from black and white, sepia, triptych, four way split and Pop Art treatments canvas prints – and folding screens which can be placed anywhere in the house.
Fathers Day Presents For Activities
Or give your dad fathers day presents which he can spend some time on. The personalised photo jigsaw puzzles are great activities for the whole family to join in on. Or let him chill out with a jigsaw puzzle on his own to relax after a stressful day. A photo book is also a great fathers day present for the whole family. Instead of watching the TV one evening why don't you gather the whole family sit down together on the living room sofa and look through the photo book filled with memories.