If you are a gamer or are searching for a gift for your gaming obsessed friend, then look no further. We are here to help you out. Games consoles and games can be expensive, so if you are on a budget, we have the perfect gaming gift alternative that they will love. Custom gaming t-shirts are personal, fun, and stylish. Creating a gift that is tailored to their interests.
So, save yourself the hassle of trying to remember what games console they own (is it an Xbox or PlayStation? What model is it? Who can keep up nowadays!) and create a unique gift that you know they will love. Time to get creative. We hope this will provide some gaming t-shirt inspiration for you.
Console Obsessed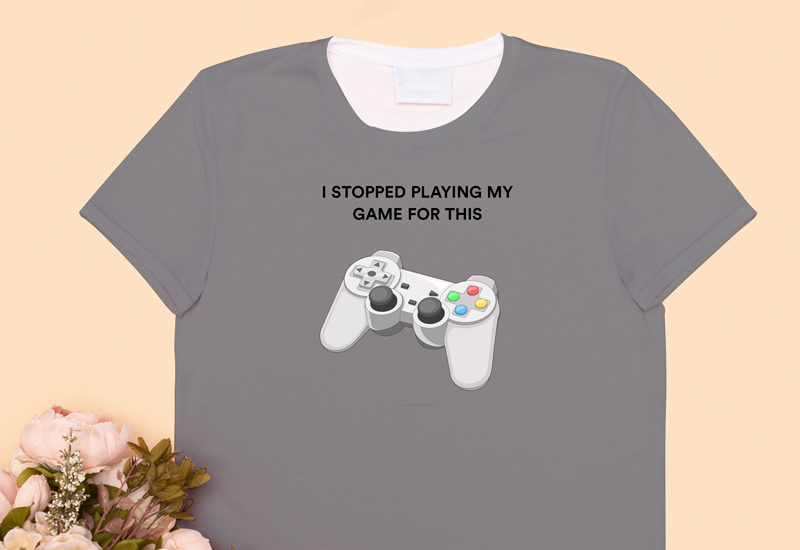 Like with a sports teams many true gamers are loyal to a specific games console. They have their preferred brand, and they stick to it no matter what. When a new console is released, they have been waiting for months to get their hands on their very own.
The truly dedicated fans stay up late into the night for pre-orders and out late in the cold to be the first in line. They do whatever they can to ensure that they get their hands on the latest and greatest. A true fan like that deserves a gaming t-shirt that honours their dedication.
Whether they love Xbox, PlayStation or a sucker for the classic Nintendo Wii, their beloved console will make an iconic statement t-shirt. So, take an image of their console, the controller, or the company's logo and create an original t-shirt design.
At Bags Of Love, our all-over printing means you have many different printable areas to choose from. The customisation possibilities are endless! Get brainstorming and create the perfect gift. So good you may just keep it for yourself.
Fandom Fanatic Gaming T-shirts
Do they own all the games of a specific franchise? Are they obsessed with a specific games character? Then why not create a one-of-a-kind gaming t-shirt they will never want to take off.
The great thing about most games is the plethora of characters available. From creating your very own character, to the well-loved familiar faces, there are so many wonderful characters to choose from.
So, if they have a go to character, or have created their own wonderfully weird "skin" use that to create a personal gaming t-shirt design. They will be shocked and delighted to see the very character they created brought to life on their own custom t-shirt.
Old School Classic Gaming T-shirts
If you are unsure as to what their favourite games could be then you cannot go wrong with an old school classic. Mario, Pac-Man or even Tetris, these iconic games are recognised and loved by all.
A classic game makes for a timeless t-shirt design that will never go out of style. The perfect tribute to where gaming began. Any games lover will appreciate this truly iconic gaming t-shirt design.
ESports Champion
Gaming is not only a billion dollar industry but has also created a platform in which individuals can compete and even earn a living from. From esport competitions to streaming, there are multiple ways to earn money as well as demonstrate your talent and skill.
If you or your friends are competing in any esport competitions, or really should be, then why not create custom gaming t-shirts to show your support. Get excited for the big event and show the competition you mean business. You can create a unique t-shirt design that will really show you came to play.
Caricatures Of The Gaming World
If you are feeling really creative, why not turn them into their own games character. You can create a unique character version of them in the classic style of one of their beloved games. If they adore Mario, why not take them into that world and transport them into the game itself.
If your boyfriend is a gamer, he will love a gaming t-shirt with the two of you on it, but in character form of course. A guaranteed laugh. Mario and Princess Peach will have nothing on the two of you.
Have a gaming obsessed son? Why not create Sim characters that resemble the whole family. Have them marching, leaping, and dancing across their very own gaming t-shirt. With our all over print, there's room for the whole family!
So, what are you waiting for? Get creative and head over to Bags Of Love to make the ultimate gaming t-shirts!