In September, we ran a fashion inspired competition to create a design for our custom printed bodycon dress.
We had almost 140 entries from artists, designers, fashion students and amateurs, and we were blown away with the entries. It was very difficult choosing our winners, but after a lot of deliberation, they were indeed chosen! We got in touch with our winners, once they had received their very well earned prizes, to ask them a few questions about their winning designs.
Here is the first of our designer interviews with artist Tetka Rhu.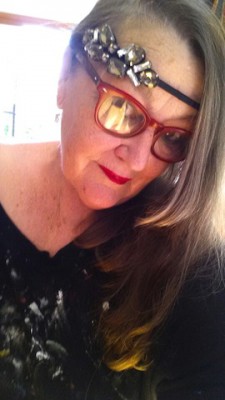 Bags of Love: Hi there Tetka! Could you tell us a little bit about your design?
Tetka: Black is Sexy was the design I chose for the competition. I chose this particular design as it encapsulates the idea of "nothing is ever as it appears," as the blackness of despair will always take us through to experience beauty and love. When I found out about the Bags of Love competition, I was on my way to see my dad, whose time on this earth was limited. The last thing on my mind and in my heart was a competition, yet, instinctively, I knew that there was something special about this competition for me to go the extra mile and enter.
Flying down to see my dad a few hours later, I was greeted with the news that he had sadly passed during my journey. The next week saw my attention taken up with supporting my sister with the preparations for my father's funeral. Two days after flying home, I received an email saying I was one of the winners of the Bags of Love dress design competition! The mysteries held within the art, Black Is Sexy, had manifested into reality.
Bags of Love: Wow! What an inspiring journey. Is there a story which accompanies Black Is Sexy?
Tetka: Yes indeed, I actually wrote a short story to accompany the design. It is all about seeing ourselves through our inner wealth and perceptions of beauty.
Bags of Love: Do you have a website or online store, which we can share with our readers?
Tetka: Back in May 2014, I participated in a digital art exhibition, which saw one of my artworks being shown on the 25 story American Eagle Building in Times Square, New York, on 24th July. The piece was Puss in Boots #GirlPower. The website, which has recently launched, is a starting point to explain a bit more about my work. You can visit it here: www.girlpowerrhules.com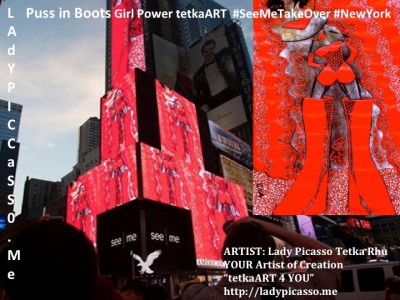 Bags of Love: What do you plan to do with your prizes?
Tetka: I plan to gift the dress, which I received as my prize, to the winner of a competition, that will be offered to entrants who "like" our new Facebook page: facebook.com/GirlPowerRhules
Bags of Love: How would you describe your style of design?
Tetka: My style is unique, stylish and classy yet empowered with sensuality.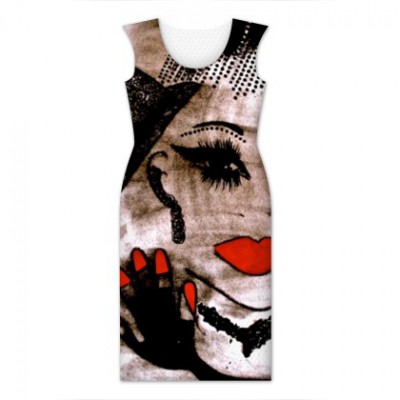 Bags of Love: If you could design any product on the Bags of Love website, what would it be and how would you design it?
Tetka: There is no black and white answer to this question, as I adore creating fashion and fashion accessories with my artwork. It gives me a buzz to know that people who love my art get to experience magic in their world, simply by wearing my designs!
Bags of Love: What product would you like to see on the Bags of Love website (if it doesn't already exist?)
Tetka: Sexy underwear!
Thanks so much to Tetka for taking part in our winner's interview! Make sure you stay tuned for more winning interviews, coming to the blog very soon.
Bags of Love x