Our next designer interview comes from another of the winners of our Inspired By…Design a Dress competition, where entrants had to create a design for our gorgeous Custom Printed Bodycon Dress.
Meet our next winner, Rebecca Yoxall.
Bags of Love: Hi Rebecca! Congrats on winning our design competition. Can you tell us a bit about your winning design?
Rebecca: My design is called "Tropical Vibe."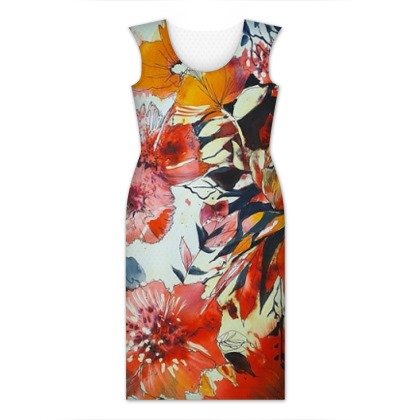 Bags of Love: And what is the inspiration behind your design? Is there a story, which accompanies it?
Rebecca: I am always inspired by flora and fauna, island's with a sense of paradise and warm, bright and tropical colours. I usually paint in watercolour but I have recently discovered a product called Brusho by Colourcraft, which is fantastic for creating vibrant colours. This particular piece was made while I was experimenting with Brusho.
Bags of Love: Do you have a website or online store, which we can share with our readers?
Rebecca: I created a series of floral designs, which I produced as beach bags and sold them on my website, www.rebeccayoxallart.co.uk. I also have an etsy store and a Facebook page. I set up my website myself earlier this year and anyone who knows me well, knows what a major achievement this is for me! I'd much rather have a paint brush in my hand than a computer mouse. It is still a bit rough around the edges but as my business grows, I'm sure I will continue to develop it further.
Bags of Love: What do you plan to do with your prizes?
Rebecca: I absolutely adore my dress, I am utterly over the moon with it! However, as I take a size 18 dress, it is just a tad too small for me, so instead of wearing it myself, I am going to give it to my sister for Christmas (shhh…don't tell her!) I will use her as my model and photograph her in the dress for my website.
I am also in the process of completing a fabulous bird design, which I intend on printing onto a scarf with the voucher I won. I can't wait to get that done!
Bags of Love: How would you describe your style of design?
Rebecca: My style is feminine but not too pretty or chintzy and I think the dark colours and shades I use give my style more of a powerful statement. Throughout the year, there has been a lot of printed florals in fashion, but I prefer the stronger florals from jungle prints and bright, bold colours rather than small and dainty prints. I also think there are a lot of orange and coral tones in fashion at the moment, which inspired me. Also, the golden orange tones in my design give a nod towards gorgeous autumnal sunshine.
Bags of Love: If you could design any product on the Bags of Love website, what would it be?
Rebecca: It would be amazing to create a design for a personalised bedding set. I have always wanted to have my own custom printed duvet cover. I would make it the most intricate design with a variety of flowers, birds, butterflies, dragonflies and bees (my favourite) all intertwined with trailing stems and leaves. I would love it to be a whole scene that you could truly get lost in – it would be like falling into a wonderful enchanted dream every time you got into bed!
Bags of Love: That sounds amazing! We'd love to see a personalised bedding set like that. What product would you love to see on the Bags of Love website (if it doesn't already exist?)
Rebecca: I think you pretty much have every personalised gift known to man! I would love to see some kind of package deal on Bags of Love, so customers ordering a few different items could get a discount. Maybe coordinating items. For example, if I wanted to order matching curtains and personalised cushions, or matching personalised mugs, coasters and a table cloth. It would be amazing to be able to purchase a living room or kitchen package at a discounted price…just an idea!
Bags of Love: that is an excellent idea and we'll definitely have a think about that!
We hope you enjoyed Rebecca's inspiring interview. We have one more to come, so make sure you check back for that.
Bags of Love x