Welcome back to another designer interview!
This time around, we'd love to introduce you to our main winner from our Blooming Marvellous floral design t-shirt competition, the lovely Hannah Miles. Hannah was so excited when she won the competition, that she danced around her bedroom, making her mum laugh out loud!
Bags of Love: Hi Hannah! Can you tell us a little bit about your winning design?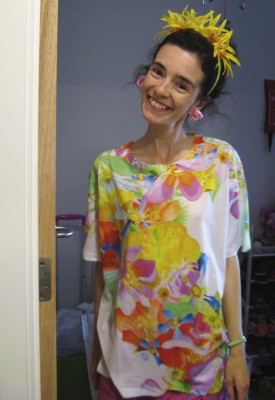 Hannah: I wanted this t-shirt to have energy and life, as if the flowers were almost growing our of the seams, blossoming before you and tumbling off of the fabric. Maybe it sounds a bit cheesy, but it was always in my head like this, that it had to be dynamic. It needed to be bright and bold, to fill enough of the white background to be an "all over design," as requested in the competition brief. It also needed to have white space around the edges for the flowers to "breathe" or even "bloom!"
Bags of Love: What is the inspiration behind your design? Is there a story, which accompanies it?
Hannah: Yes, there is a story! It all starts with the bus stop down the road from where I live in Stockwell. It's called the "edible bus stop." It used to be just a patch of disused, neglected land that faced the threat of being built on. The local residents rallied together and turned it into a lovely community garden project and now, it is the prettiest bus stop I have ever seen! The name "edible" comes from that fact that fruits and vegetables grow there, which people can harvest, but there are also plenty of beautiful flowers growing there too and walking past them all the time, triggered my initial inspirations.
I'm a textiles student and for my last college project, I decided to make an installation of paper flowers to place within the bus stop garden, to celebrate its significance to the community. While painting and folding each of my paper flowers by hand, I started dreaming of the sort of patterns I could create if I scanned them and played with the composition and made a sort of "digital" garden. When I saw your competition, I decided to go for it! I took photos of my paper flowers, layered them in Photoshop and imagined a wearable garden, which would work for a t-shirt.
Bags of Love: Do you have a website, which we can share with our readers? Can you tell us a bit about it?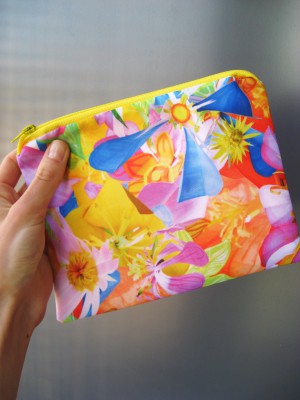 Hannah: I have a blog, where I document my college work, called Happy Making: hannahhappymaking.blogspot.co.uk I have also set up an Etsy store this week, which I am pretty excited about! You might notice a familiar floral pattern on some nice handmade purses! My trademark floral headbands, earrings and other accessories are also for sale there for the first time! You can check out my store here: etsy.com/uk/shop/FlowersmilesDesigns
Bags of Love: What do you plan to do with your prizes?
Hannah: Well, I gave some of them away as soon as I got them. I promised my mum a t-shirt, if I won, so it only seemed fair that she had the first pick! Then a few other relatives and friends received the other t-shirts (people who have always told me I would win something some day if I just kept trying). I think everyone needs that kind of support and encouragement and it is such an honour to see them actually wearing my designs. I kept the zip top handbag and the final t-shirt for myself. I laugh and dance around when I wear them – they are great quality products and really nicely made and it still amazes me that I actually won! It also makes me smile when I am on a tube full of commuters with their dark briefcases and suits, and I hop on in my bold, bright, florals! Bloomin' marvellous indeed. Finally, the lengths of customised fabric I won are fast being cut up and turned into presents – purses, which you will be able to snap up in my new Etsy shop. I would also love to make a dress, if I have any fabric left!
Bags of Love: How would you describe your style of design?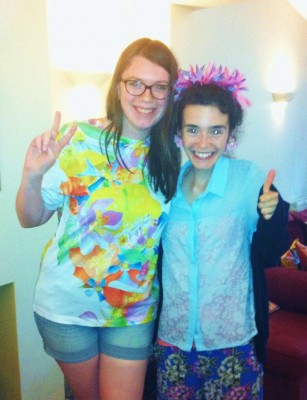 Hannah: I would say; playful. I design for joy, to make myself smile and to have an outlet of expression, that hopefully others like and are cheered by. I've always been obsessed with flowers too. It's also a little bit quirky. I'm not afraid of using colour and I quite like when colours clash – pink and orange in particular. I think combinations of design techniques are always exciting, it doesn't always work but sometimes it can work better than you would expect.
Bags of Love: If you could design any product on the Bags of Love website, what would it be and how would you design it?
Hannah: I don't know if I could pick just one! I'd love to design a personalised tie for my dad's birthday and make it really colourful to spice up his working days. I'd also love to enjoy designing a brightly patterned roller blind for my room at university. It's my grandparents 50th wedding anniversary soon and I would love to design a double deckchair for them. If we all spent more time cuddled up with the people we love, I'm sure the world would be a much happier place.
Bags of Love: Finally, what product would you love to see on the Bags of Love website?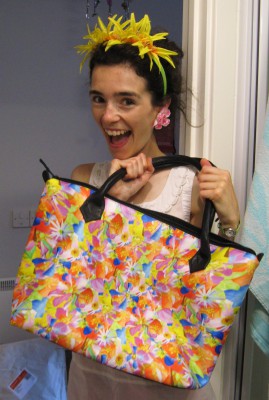 Hannah: I think a canvas shoe would be fun. I hand-print all my own shoes with crazy patterns and designs but it would be great to have some digitally printed ones. Our feet enable us to do so much that I reckon they deserve to be adorned with something snazzy-looking!
Thank you so much Hannah for answering our questions!
Make sure you stay tuned for more designer interviews, and remember, if you would like to be featured, check out our competition page, where our brand new design competition has just launched!
Bags of Love x