Our next designer interview comes from our first place winner, the very talented Claudia Voglhuber.
Claudia's winning design captivated us and made us giggle too. Here she tells us a little more about it.
Bags of Love: Hi Claudia and congratulations on winning the first place prize! Can you tell us a little more about your design?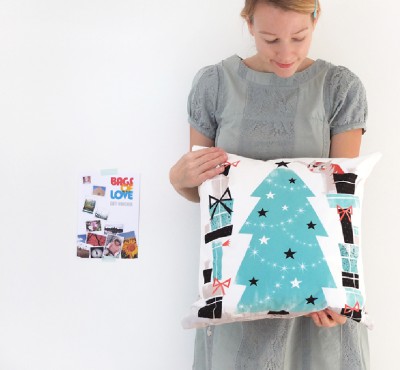 Claudia Voglhuber: Thank you so much! Last year, I created a new illustration technique for myself and I enjoyed it so much, that I stuck to it! I usually start painting with gouache, oil pastels, ink and other paints on vintage papers. I then scan them when they are dry enough and create collages with them on my computer using Photoshop. This is the method I used when creating my winning design for the Bags of Love cushion competition.
Bags of Love: What is the inspiration behind your design? Is there a story which accompanies it?
Claudia Voglhuber: There is indeed a story behind my design! My parents have always owned cats and one of them always wanted to climb up the Christmas tree to reach the top. One Christmas, she actually managed it and she knocked the tree down! All the Christmas decorations, which we have had for years, all smashed on the ground. The cat just got down and gave us a bit of an unimpressed look and walked away…a typical cat! I wanted to capture this calm moment before the chaos broke out.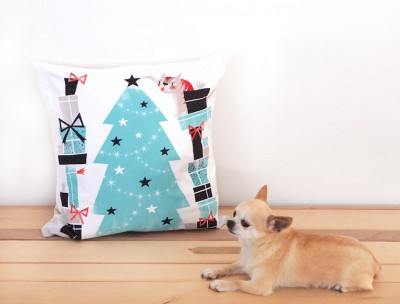 Bags of Love: What a funny story! Do you have a website or a blog, which we can share with our readers? If so, can you tell us a bit about it?
Claudia Voglhuber: Yes, I have both! 10 years ago, I started my blog www.wide-eyed-tree.blogspot.com with the intention to have an online picture diary showing my creations and my everyday life adventures. I wanted it to be personal to me, without following popular trends, but with not many words. I found it started to become a really good motivator to create even more art. Over the years, I have gotten to know so many people from all over the world, with similar interests and dreams through my blogging. Sometimes I post pictures of my home as well, because I also love to see how other people live. I also have a separate website showcasing my latest artwork, which can be found at www.cargocollective.com/claudiavoglhuber. I try and update this as regularly as I can.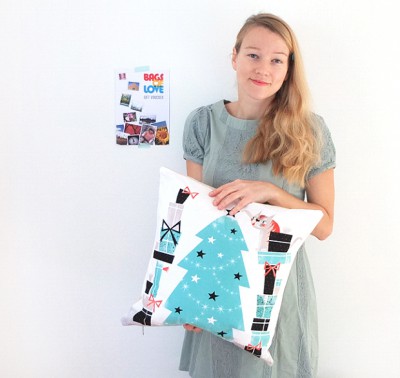 Bags of Love: How would you describe your style of design?
Claudia Voglhuber: I would say my style is bold, eye-catching and colourful. I love to experiment with wild colour combinations. I admire artists that stick their whole life to one specific colour palette, but that's not for me. My colour choices change with my mood. One of my friends once described my  illustrations as very strong yet fragile at the same time. I think this is the perfect way to describe my work, as it reflects my personality in some way.
Bags of Love: We'll be sure to check them both out! What do you plan to do with your prizes?
Claudia Voglhuber: That's a very good question! The personalised cushion I will definitely keep for myself, as a reminder to push myself creatively. I'm not sure how to spend my gift voucher yet though. I'm thinking of ordering even more cushions with different designs to surprise friends and family with, because I was so impressed with the beautiful quality of the print and the fabric. I really do love it! Or I might order a Personalised Deckchair – it would look great on my terrace.
Bags of Love: If you could design any product on the Bags of Love website, what would it be and how would you design it?
Claudia Voglhuber: In the summer I made an illustration of a landscape with icy mountains, surrounded by the sea and some hot air balloons between the clouds. I would love to see it on a large photo canvas! I have also created a pattern with pink elephants, which I think would look lovely on your Personalised Baby Blanket.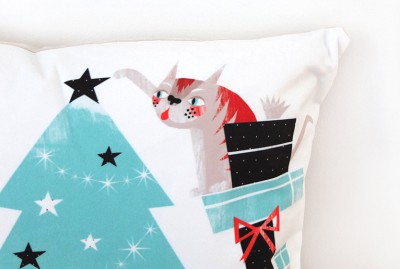 Bags of Love: We would love to see those! What product would you like to see on the Bags of Love website, if it doesn't already exist?
Claudia Voglhuber: There are so many amazing products already on the Bags of Love website! Even personalised pet bowls, hair brushes and personalised socks – all of which can be customised. I cannot really think of a product, which I haven't been able to find on the website. Maybe a personalised yoga mat would be nice.
Thank you so much Claudia for chatting with us. We've loved hearing more about you and your design and we hope to see you at Bags of Love again soon.
Remember to keep your eyes peeled for more design interviews on the Bags of Love blog.
Bags of Love x