A massive thank you to all you hoopy froods, who took part in our Towel Day design contest!
We had some amazing entries, from original designs to gorgeous family photos and classic Hitchhiker's Guide to the Galaxy quotes. Some were so great that a few of the team wanted to actually print the towels for themselves!
However, winners must be chosen and as much as we would have liked to break the rules and have everyone a winner, our judging panel had to pick just 5…and that was a hard job!
So, here are the winners: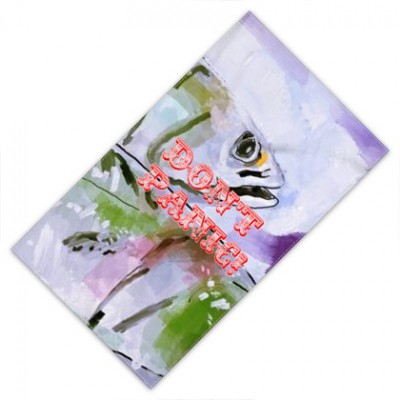 SOPHIE STARKEY – this stunning design by Sophie is a fun and artistic homage to the late Douglas Adams and Hitchhikers.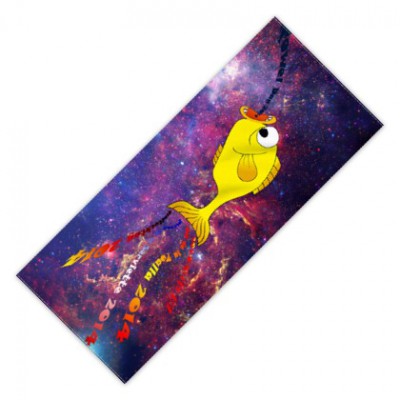 ALBERTO GONZALEZ-CELA – this brilliant design by Alberto showcases the Babel Fish (a little creature which instantly translates any language when inserted into your ear!) from The Hitchhiker's Guide to the Galaxy eating the English words for Towel Day and "excreting" them in different languages. Very nice!
ZACK ZIEGLER – Zack has chosen to design his towel with the famous slogan from Hitchhiker's; Don't Panic! and team it with TOWEL DAY 2014 and a hitchhiking thumb on a galaxy backdrop. Love it!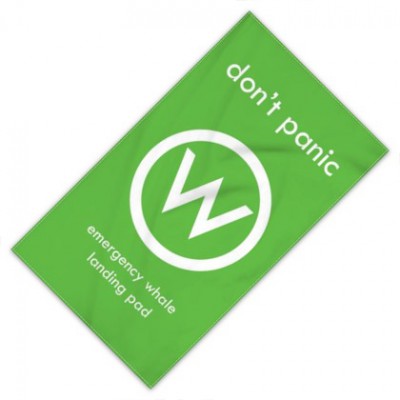 IVAN ARNAUDOV – Ivan's humorous design got us all giggling. His emergency whale landing pad design is the perfect choice for a Towel Day competition!
DANIEL MEINERT – our final winner, Daniel, chose to create a fun and vibrant design, quoting the opening sentence from The Hitchhiker's Guide to the Galaxy. Perfect homage Daniel!
So there we have it! Our 2014 Towel Day competition winners. Well done all of you, we will be in touch and you will be receiving your beach towels soon!
If this competition has left you wanting more then DON'T PANIC! (see what we did there?) We currently have another design competition running called Blooming Marvellous, which you can enter here and we will be announcing more competitions on our contest page very soon, so keep those eyes peeled!
Thanks again for all who entered and Towel Day will be back next year.