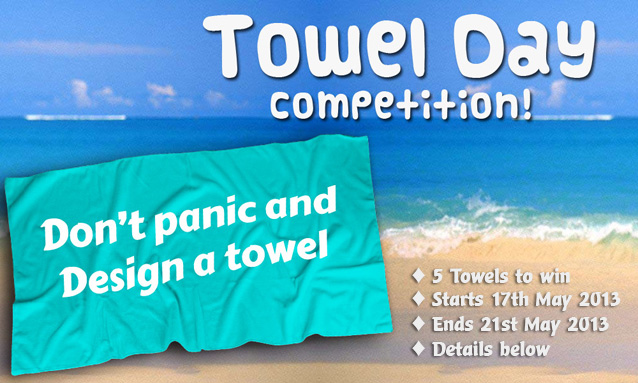 The 25th of May can only mean one thing, Towel Day! What? You've never heard of Towel Day? Well, let us fill you in… The day is a celebration of the life and work of the late Douglas Adams observed by his fans through carrying a towel all day. A quote from Adams' work 'The Hitchhiker's Guide to the Galaxy' states the value of towels as being 'about the most massively useful thing an interstellar hitchhiker can have'. Indeed, towels have many uses which Adams outlines:

'You can wrap it around you for warmth as you bound across the cold moons of Jaglan Beta'
'Wet it for use in hand-to-hand-combat'
'Wave your towel in emergencies as a distress signal'
'Dry yourself off with it if it still seems to be clean enough'
   – Douglas Adams, The Hitchhiker's Guide to the Galaxy

COMPETITION DETAILS – How to enter
THE COMPETITION IS NOW CLOSED
Here at Bags of Love we would also argue that towels make great personalised photo gifts! So, to celebrate Towel Day we're giving you the chance to win an awesome custom towel.
Here's how you can win a MAXI sized Beach Towel in 3 simple steps!
1. Click this button (opens in new window)
2. Design a beautiful towel
3. Click "Save Design" button and enter your name as: yourname #towelday and put your email address.
The competition is now closed
Not 1, but the Top 5 design winners will each receive a MAXI sized personalised beach towel with their design printed on it.
* Please don't worry about the 2 automated emails you will receive from us once you saved the design. We're sorry for the glitch.
Terms of the competition:
–  The competition is open worldwide and will close at 5pm (BST) on Tuesday 21st May.
–  We'll be featuring your design on our Facebook album so you can share it with your friends and family members (Mentioning your Name and Design Id on the image will set your design apart).
–  For the purpose of this competition you will be unable to use any copyrighted images in your design and therefore will be barred from taking part in the competition if found using any.
– No offensive designs.
– The winners will be selected by our expert designers and the prize will not be exchangeable or refundable.
Take a look at few designs from our participants:  World Towel Day Album