Is your old man turning the big 5-0 this year? Then you will need to get him a very special gift, which he will love and treasure for the next 50.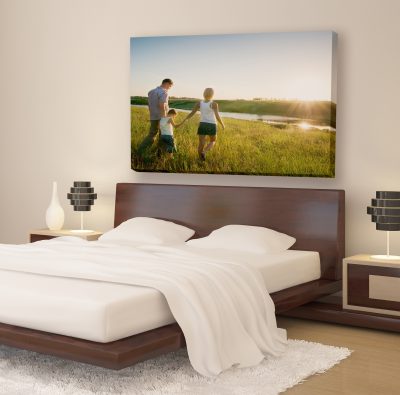 There is no better way to say; Happy Birthday and; I love you than with the beautiful and personal gift of photos on canvas. A gorgeous photo canvas can say so many things. From family photos, to holiday snaps, to images of their favourite hobby, a photo montage on canvas really does make the perfect gift for dad.
We have a wide range of different canvas prints and styles to choose from, to ensure your dad gets the best birthday present. Our Photo Filmstrip Montage and Multi Panel Photo Split are quirky and unique options, which turns a regular photo canvas into a work of art! Or why not try our beautiful Black and White Canvas, to add a touch of style and elegance to his walls?
A photo collage on canvas to celebrate his first 50 years is another great idea for your dad. Is he a massive footie fan, who hogs the TV every time his team (or any team) is playing? If he religiously follows a club, then turn their crest into a photo collage or photo canvas, along with photos of his favourite players, so he can hang it proudly on the wall.
Another great idea for canvas prints is creating a montage of your dad's favourite photos from a fab holiday or special event. You upload them and choose your layout and we can turn your snaps into beautiful photo canvas wall art, which is sure to bring a (happy) tear to his eye. He will be able to remember and reminisce about the good times, by looking at them from his favourite chair in the lounge. There really is no better gift that photos on canvas!
Bags of Love x