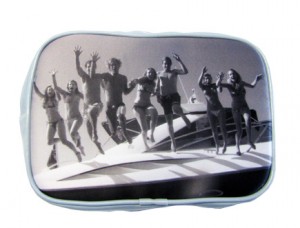 A great way to remember a special holiday is to turn favourite pictures into personalised gifts. Personalised gifts make excellent photo birthday gifts. Make someone's birthday extra memorable by giving them something that holds has a dear memory attached to it.
Snaps from a holiday with all your friends can be transformed into innovative birthday gifts such as personalised make-up bags (above), pouch purses for Iphone's and Blackberry's or laptop bags to keep your laptop protected to and from school.
Personalised birthday gifts such as make-up bags will surprise your friends because they are probably expecting the same old gifts you normally give them. Set a trend and give all your mates photo birthday gifts from now on, maybe it will rub of on them and when your birthday comes along you too will get a personalised birthday gift!