A great way to remember a special holiday is to turn favourite pictures into personalised gifts. Personalised gifts make excellent innovative birthday gift ideas. Make someone's birthday extra memorable by giving them something that holds has a dear memory attached to it.
Snaps from a holiday with all your friends can be transformed into innovative birthday gifts such as personalised make-up bags, pouch purses for iPhones and other mobiles or laptop bags to keep your laptop protected to and from school.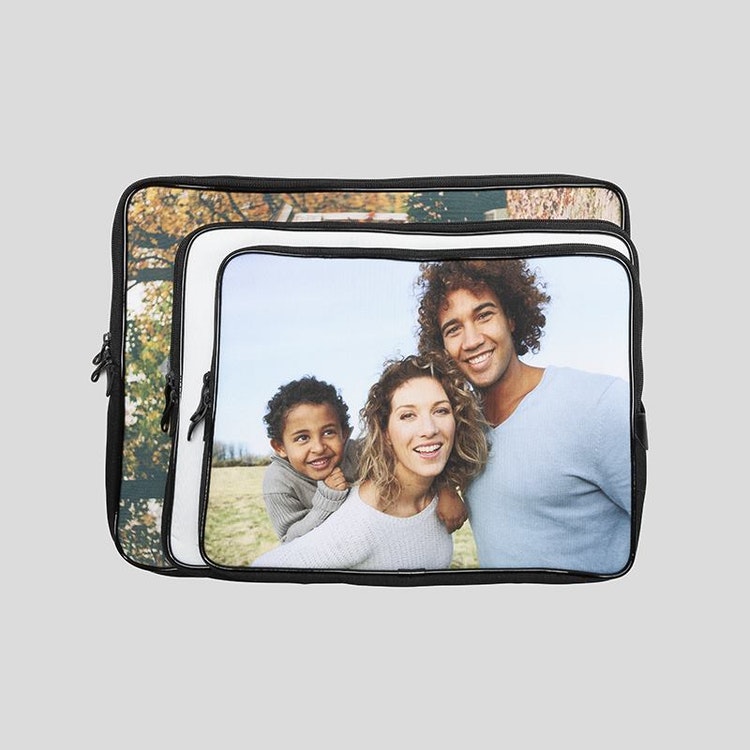 Innovative birthday gift ideas that are personalised such as make-up bags will surprise your friends because they are probably expecting the same old gifts you normally give them. Set a trend and give all your mates innovative birthday gift ideas from now on, maybe it will rub off on them and when your birthday comes along you too will get a personalised birthday gift!
Washbags as perfect Birthday gift ideas
If you are looking for great innovative birthday gift ideas, you've come to the right place!– Bags of Love gives you the opportunity to create your very own personalised gifts online from your photos and designs.
The best thing about all our birthday gift ideas – besides the fantastic quality of print and materials, of course – is that we make them all in our own studio in London, so we can guarantee fast delivery on all products. Personalise your birthday gifts with your photos and your birthday present will surely be a unique surprise for the birthday girl or boy.
Perfect innovative birthday gift ideas for men and women
A washbag with a montage of your family's best photos is a wonderful and very creative gift idea. Just pick your favourite photos, from childhood images to holiday pictures or the funniest family shots. You can even choose the number of pictures you want to use for the montage. They will be printed on tough satin and hand-stitched together with the other materials (leather or black canvas) to create a unique washbag for Men.
Each washbag is fully lined. The inner lining is waterproof and therefore easy to clean both inside and outside. You decide the colour of the washbag and of course the photos you want to have printed on the sides. Washbags for women are perfect gift ideas because as well as using them for hygienic purposes, you can also take them with you on your night out as a makeup bag or even a purse.
Birthday Photo Canvases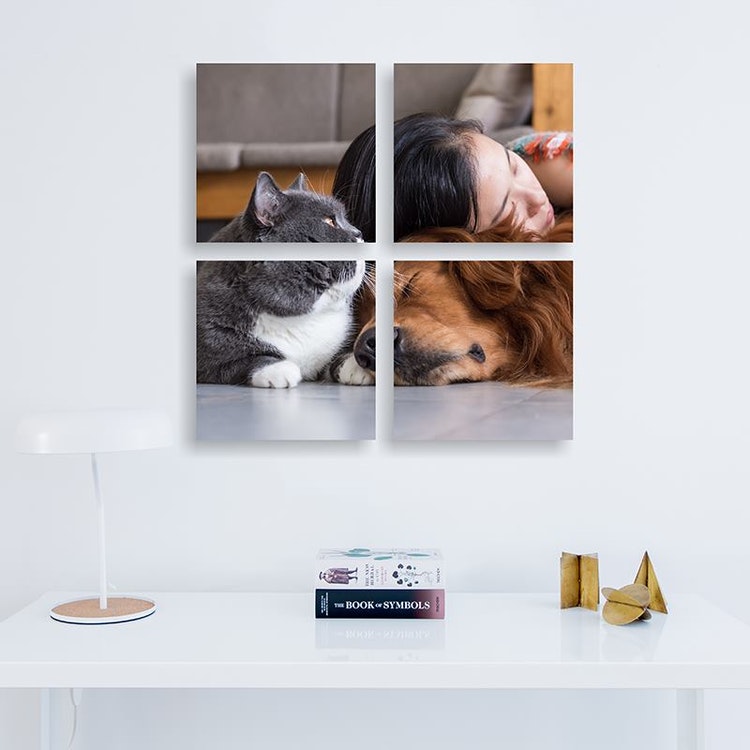 A great way to surprise someone on their birthday with spectacular birthday gifts is to take photos of previous birthdays and make them into photo canvases! Photo birthday gifts beat any other gift you may have had in mind as they are truly personal and individual. Perhaps last year you and your friends went on a 7-day party bender in Las Vegas, so why not put that on canvas? If you have too many photos to choose from a photo collage or filmstrip montage are good ideas. This way you create a birthday photo canvas.
Maybe your daughter looked adorable on her 10th birthday blowing out the candles on her cake, so you could turn that photo into a black and white photo canvas and give to her! Or did you bake an amazing cake for your friend two years ago and want her to remember what a great friend you are? Put it on a birthday photo canvas! Birthdays are special, so why not turn the memories of them into special birthday gifts for the next celebration. Photo birthday gifts featuring happy birthdays from the past, It doesn't get any better than that!
Birthday Gifts And Cards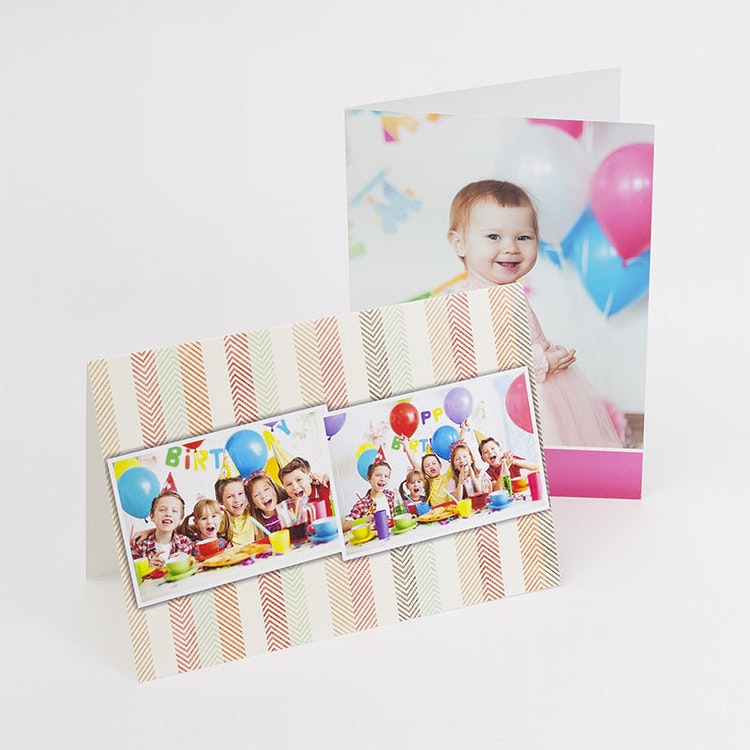 If you didn't know that your own photos can be turned into amazing birthday gifts and cards then it's about time you knew! If you've missed the phenomenon of personalised gifts let us give you a quick brief. Basically any photos can be placed on birthday gifts such as bags, canvas prints and many home items. All you do is upload the photos and then we print them on birthday gifts using the finest materials and printing techniques. This means that birthday gifts and birthday cards can be covered in your photos!
Birthday Gifts For Him
Birthday gifts for him can feature photos of the birthday boy or any images or graphics he likes. Many of the home items are obviously unisex birthday gifts but some items have proven to be extra popular as birthday gifts for men. The wash bag for men is popular for all occasions so birthdays are no exceptions. The wash bag for men can feature one image or several together in a photo montage. The stylish and sturdy hold all bags are also fab birthday gifts for men. If he's all about his gadgets opt for a photo laptop or iPad case.
Birthday Gifts For Her
For a woman's special day opt for beautiful bags and stylish home gifts. Women love their homes so lovely birthday gifts for the home will be popular. Personalised cushions, blankets and photo placemats will be appreciated by any woman. Birthday gifts for women can display family photos, friendship photos or even elegant patterns which will make her home interior look amazing. Personalised bags like the popular photo handbags and makeup bags are ideal for the woman who loves beautiful bags.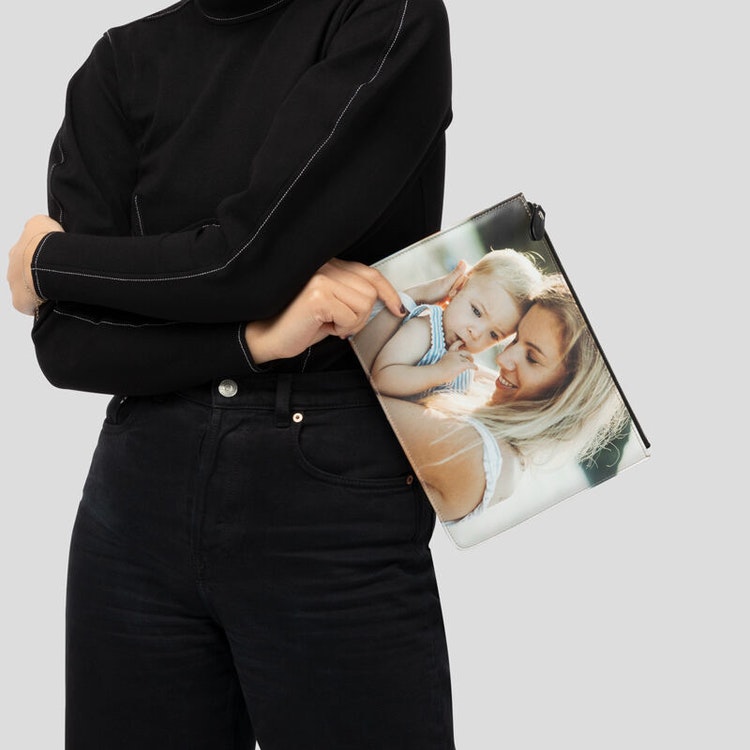 Brilliant Birthday Gifts on a Budget
Are you looking for brilliant birthday gifts on a budget? (Try saying that 5 times fast!) Can't seem to find anything suitable on the high street? Look no further because with Bags of Love you are sure to find stunning personalised gifts and birthday gifts for the people who mean most to you. We have a fantastic range of personalised photo furnishings that will undoubtedly bring joy and happiness to any recipient!
Floor Cushion – Great Photo Furnishings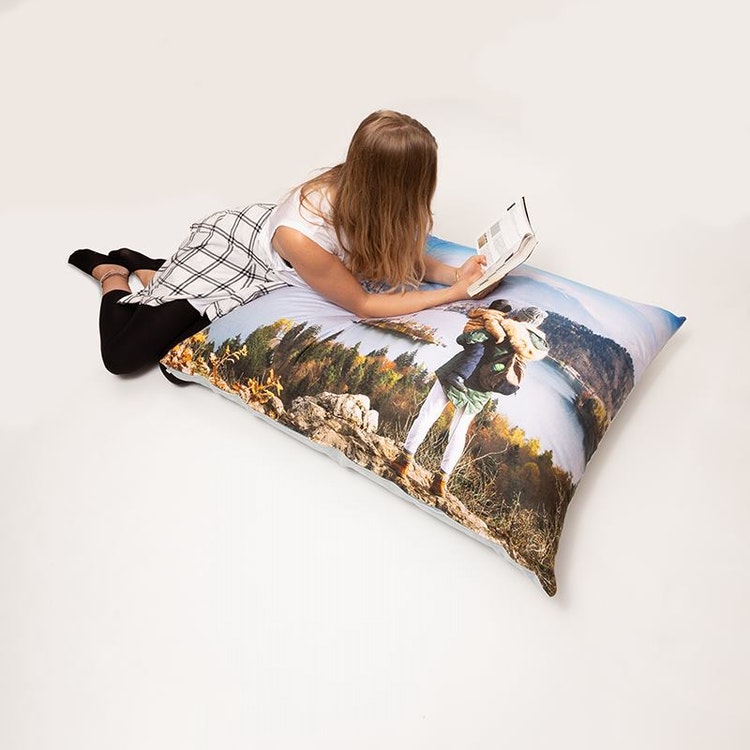 Create your very own comfy floor cushion. Charming floor cushions that are characterful, unique and extremely snug! These photo furnishings are also stackable, which means that they are very easy to store when not in use. But trust me – once you have your very own comfortable personalised floor cushion, you will most probably be using it for the vast majority of the time!
Personalised Tablecloth – Cool Gift Ideas
If you know a family who likes to have special dinner parties or whose tablecloth perhaps needs a change, why not get them a custom printed one hand-sewed by our expert designers? With 5 sizes across either rectangle, square or round, these personalised tablecloths are great photo furnishings that are ideal for wedding table linen. Give some life to the kitchen or dining room table with tablecloths personalised with your very own photos for an extra bit of sparkle!
Innovative Birthday Gift Ideas For Pet Lovers
Do you have a friend, family member or co-worker who simply won't stop talking about their pets? Maybe they have a dog of 10 years who is like a family member? Or five cats who are like their children? In that case, it seems like you are dealing with pet lovers! And when you need to buy birthday gifts for these pet lovers it is pretty obvious what you need to do. Gift ideas for pet lovers just need to feature photos of their precious furry friends and that will guarantee that the birthday presents will be a hit!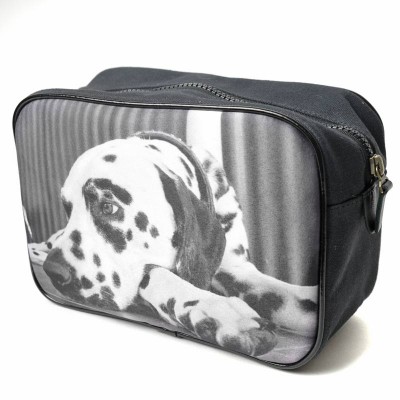 Innovative Birthday Gift Ideas For Women
If the pet lover in question is a woman there are many fantastic gift ideas for pet lovers which she will love as birthday gifts. Personalised makeup bags, for example, are superb. By giving the pet lovers makeup bags displaying one or several photos of their loved pet you create an everyday gift featuring her beloved animal. Makeup bags as birthday presents for the woman pet lover are just perfect because this way she is never far away from her pet. She can take the makeup bags with her day to day and her pet will always be with her!
Makeup Bags Birthday Gifts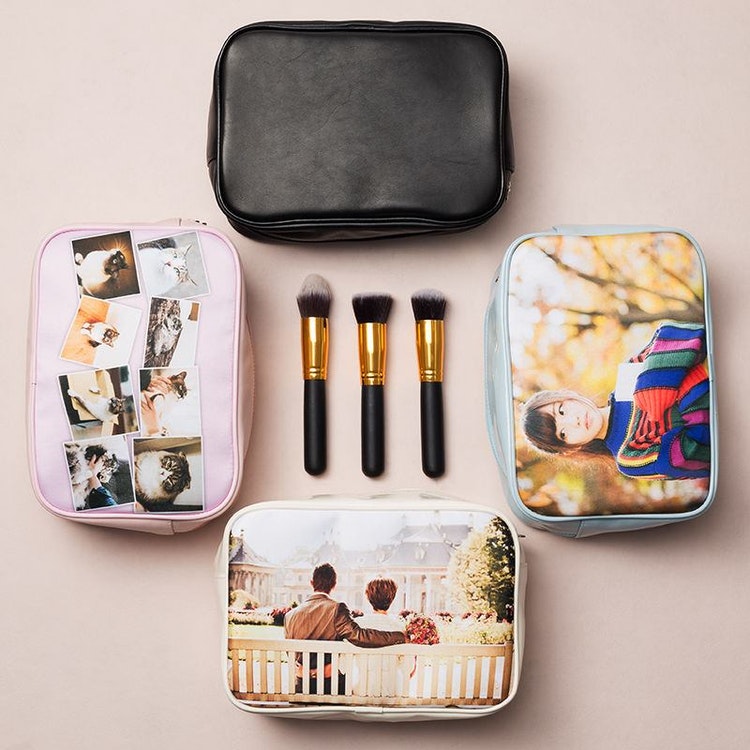 There are a couple of different design options for the makeup bags. You can either choose one cute photo, of the pet or the owner as well as the pet and have it printed on both sides of the makeup bags. Or why not two photos – one for each side? If you want to go a bit more creative than that let us make a small photo montage of the pet photos.
Personalised Birthday Gifts
There is a lot of pressure to get great birthday gifts for friends and family with big birthday's coming up. Personalised birthday gifts make a good impression on the receiver because you are giving them something very personal with a sentimental touch to it. Childhood memories on personalised birthday gifts will bring back dear memories of past times spent with your family. Pictures of graduation will make long-time friends appreciate their strong friendship that has lasted throughout the decades.
Our personalised birthday gifts come in many shapes and sizes. You can place a single photo or a photo montage on nearly all of our products that range from bedding, home furnishing, wall art, bags and books. A photo montage duvet cover with photos from that amazing holiday to Greece you took with your best friend or a handbag with a picture of your wife during her University studies will make gorgeous and emotional birthday gifts.
Birthday Banners as Innovative Birthday Gift Ideas
Personalised birthday gifts will surprise the birthday boy or girl at their party – and so will a custom birthday banner. Why stop at just personalising the gifts when you can personalise the decorations as well? The satin finish on our custom banners creates a luxurious banner perfect for indoor use. You can add text, photos, logos and graphics to the banners to create a totally customised banner.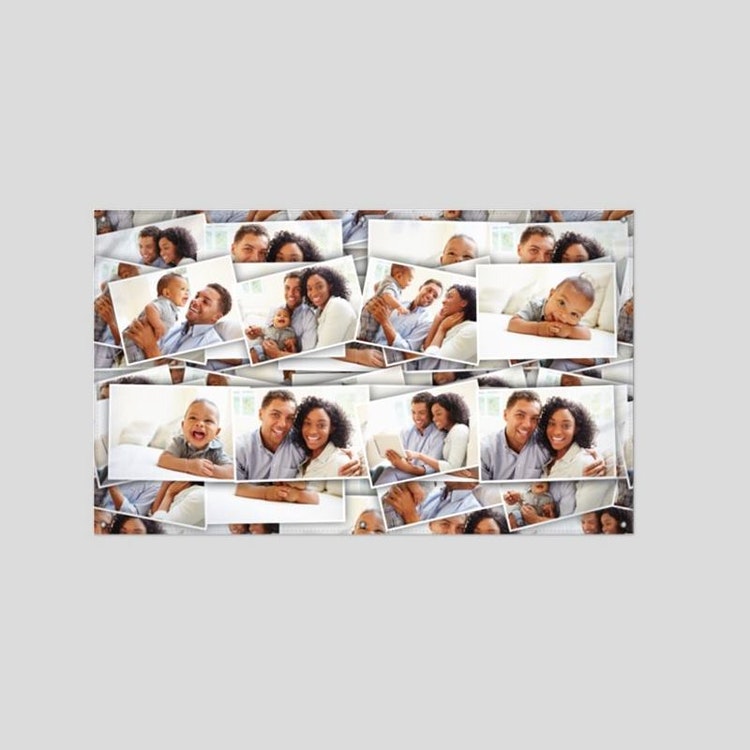 Just imagine the look on your grandmother's face when she walks into her 60th birthday party surrounded by all her friends and family, decorated with amazing custom banners with photos from her life. She will be impressed for sure! Give someone special a grand birthday next time by using beautiful custom banners and giving personalised birthday gifts to remind them of how special they are to you.
Big birthdays deserve big parties and big birthday gifts. And big parties deserve stunning custom banners! The cheap plastic "Happy Birthday" banners you can buy in supermarkets just don't cut it for big birthdays like a 21st or 60th birthday. The satin finish looks truly classy – party guests will be impressed, and hopefully the birthday boy or girl! Add text, photos and graphics to create unique custom banners for those big parties you plan for months.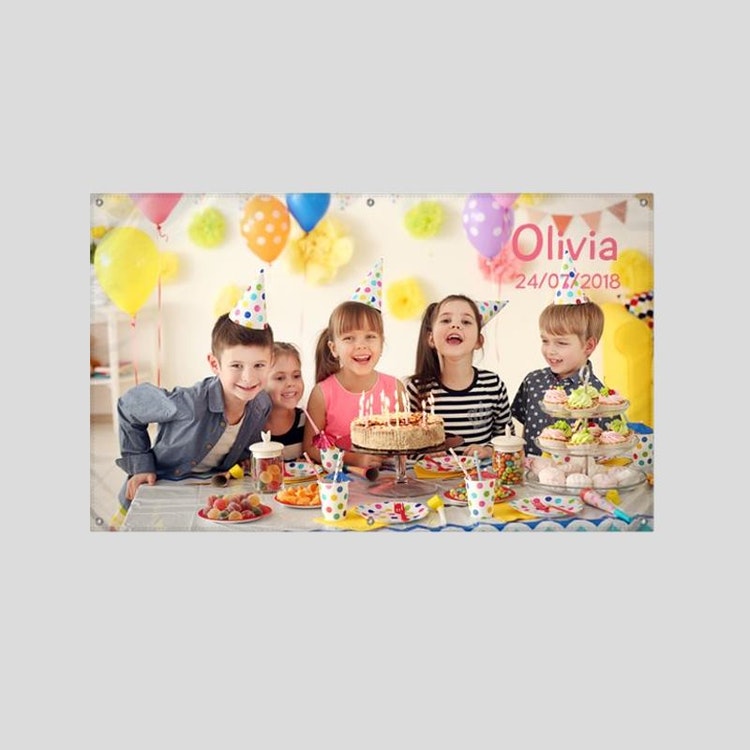 The food is ordered, the seating chart is done and the DJ is booked. Decorations at a party are just as important as the rest so don't let cheap-looking banners ruin the festive mood. Custom banners are birthday gifts in themselves; they are to be kept by the birthday honouree as a memory of the big day. And you wouldn't buy cheap looking birthday gifts, so why would you buy cheap looking decorations? You get the picture…
Get Creative
It's time to get creative. Design your own gifts to add that extra personal touch. Personalised gifts will last a lifetime and touch their hearts. With these innovative birthday gift ideas, you are bound to find a winner! Click the banner to shop now.