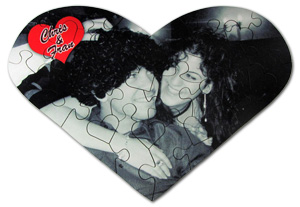 February the 14th 2011 is not far away at all and if you haven't started thinking about Valentine's Day gifts yet then now is the time to do so! Personalised gifts for Valentine's Day 2011 are ideal. Why is that you may ask yourself. Well Valentine's Day is about celebrating love and the love between people is very personal and unique. That unique love should be celebrated by giving unique gifts, and what's more unique then personalised gifts? Personalised Valentine's Day gifts can include photos of that unique love or special words that represent the love.
Valentine's Day gifts from Bags Of Love are highly personalised as you add your own images and text to the products or you can choose from our romantic and exclusive Valentine's Day designs. Either way it means that you take the time to really personalise gifts for the official day of love that is Valentine's Day. A great Valentine's Day 2011 gift is our exclusive heart shaped jigsaw puzzle. Our original jigsaw puzzles are great personalised gifts in general but for Valentine's Day we've created a special edition of the standard jigsaw puzzle.
The amazing quality of the puzzle remains the same only we turn your photo into the shape of a heart! We also add a red little heart on the puzzle where you customise a short piece of writing for the recipient. Adding yours and the recipient's name is one alternative so is "I Love You" "Be My Valentine" or "Forever Yours". As a cherry on the top the puzzle comes in a gorgeous drawstring pouch which says "Be My Valentine?" These puzzles are totally personalised Valentine's Day gifts 100% exclusive to Bags Of Love so grab the opportunity to give the cutest personalised gifts for Valentine's Day 2011.