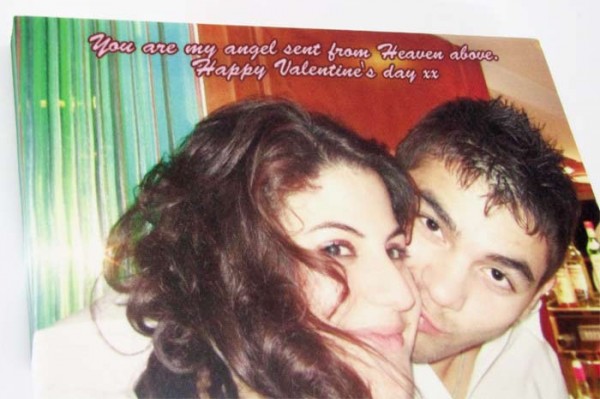 You may think that showering your partner with diamonds and pearls on Valentine's Day 2011 is the way to impress. But to give personalised gifts on the most romantic day of the year is far better. Why you might ask? Because Valentine's Day is about celebrating love and each and every love story is unique and personal to the people involved. So Valentine's day gifts should be unique too!
Jewellery will show that you've spent some serious cash but personalised gifts for Valentine's Day 2011 will show you've gone the extra mile to create original and one of a kind personalised gifts. One option when you want to personalise Valentine's day gifts by adding one or several images and text, are our photo canvas prints. The photo canvas prints will make a great new addition to your partner's home.
When you've found that great photo that truly represent the love between you and your partner (or just shows how darn in love you two are with each other) you can think about a piece of text you want to add. It is ideal to use photos which have a bit of clear space somewhere on them so that the text will show better on the photo canvas prints. The photo canvas print above demonstrates this.
A piece of text added on to the photo canvas prints take these personalised gifts for Valentine's Day 2011 to the next level. Not only do you get to choose a cute photo of the two of you, you also have a chance to express something important with words. Perhaps add something about the first time you met, how your partner make you feel or what you hope your future together brings.
Using a bit of a poem, song lyric or a quote are other great ideas. It could be anything! A poem the two of you came across together, the lyrics from a song you heard on your first date or a quote about love that says it all. Celebrate your relationship to the fullest by showing and saying how you feel about your significant half with personalised gifts.