Valentine's Day Gifts For Him
Valentine's Day gift-buying can be a taxing activity to undertake. Somewhere – we convince ourselves – lies the perfect gift. In that next store! Just around the corner! Just up there a little bit! We run around the High Street shops in search of the perfect present, spending hours upon hours looking for something that will take his breath away. Too often the psychology of gift-buying plays a major role, because our thought process goes something like this:
What do I know about (insert boyfriend's name)?
He likes football.
Therefore, I should get him a ball, a shirt, or tickets to a game.
These three steps are replicated over and over again in our lives, as we desperately search for something truly unforgettable that he will genuinely love. It can be so difficult to find the perfect present because, more than anything else, we want to surprise our other half with a stunning gift. Valentine's Day gift ideas for men that are both useful and original can be hard to come by, but we feel that we have a wonderful selection for you to choose from.
Personalised Apron
If he loves cooking – or, perhaps more appropriately, if you wished he did! – then why not gift him a stunning personalised apron that you will have designed online just for him. Use a special or even a funny photo to create a great effect that he will genuinely adore. Unlike other companies that just slap a photo onto the front of an apron, we print right around the material to give incredible photographic production on the high quality fabric. Add a funny message, too, like 'Get cooking, Fred!', just to top it off! We have some funky and highly romantic Valentine's Day gift ideas for men that you can personalise with a special photo.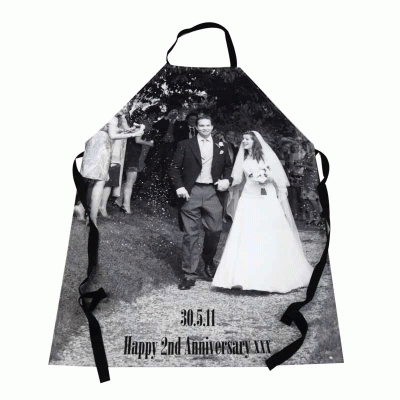 Personalised Washbag For Men
Men are notoriously difficult to buy presents for simply because it is so hard to tell what they are expecting! On this special and incredibly romantic day, it is certainly worth thinking carefully about the specific gift you would like to get for your other half. This day only comes around once a year, so it's important not to forget it. A lot of people leave buying their Valentine's Day gifts until very late on in the day, because February 14 just seems so long away! But the truth is that, when you are thinking about Valentine's Day gift ideas for men, time can move incredibly quickly. So think about it in advance, prepare the photo that you'd love to use, and get him something special! The personalised washbag for men is a great idea because it's fun, practical, and immensely sentimental. Each and every day he will use his brand new, unique washbag that you've designed for him with a special shot of you and him together!