Although it is still August for a few more days, summer seems to have well and truly left the building!
The days are starting to get shorter already and with the rainy weather we have been experiencing over the last few weeks, we want nothing more than to snuggle up on the sofa with one of our gorgeous Personalised Blankets.
If you are looking for a fun and unique gift idea (as well as a practical one) for a loved one, or for a lovely treat for yourself, then our range of personalised photo blankets and customised bedding could be just what you are looking for. All handmade, cut, stitched and printed right here at Bags of Love HQ in London, our gorgeous collection of cosy personalised bedding is a real must-have for the winter. Here are some of our favourite pieces.
The ultimate indulgent, snuggle treat! Our gorgeously soft and cuddly photo blanket is available in 5 sizes, perfect for the whole family! Design your blanket with your favourite photos…you know…the ones which make you feel all lovely and gooey inside…or even a design you really like and we'll print it, cut it and stitch it for you, ready to send to you in just 1 – 2 days!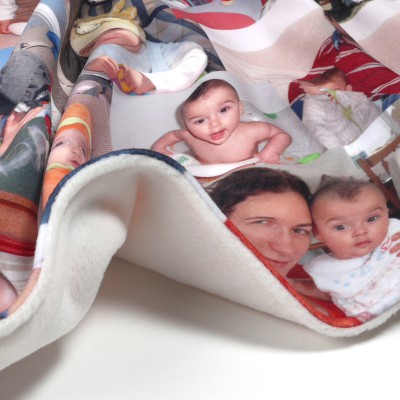 You can even add some text to make it even more personal, Our photo blankets are made from a super soft, double thick fleece and are machine washable. These blankets really do make the perfect personalised gift and are ideal for preserving your precious photos in a sweet, useful and unique way. If you fancy creating your very own Personalised Photo Blanket, just click here and we'll whiz you over to our design platform.
If you are looking for a way to get cosy and make an amazing personal statement in your home, then look no further than our stunning Personalised Duvet Cover. You can create your very own duvet covers, using our design interface. Upload sentimental photos, inspiring quotes or your favourite designs and create something that is unique to you…not to mention ultra cosy. 
We have 5 standard size duvet covers, which we print in beautiful full colour and stitch by hand just for you. We make our duvet covers out of Belgian micro fabric, which has been specifically designed for bedding because of its breath-ability and wash-ability! You can even design a set of pillow cases to match! If you fancy having a go at designing your very own bespoke duvet cover, just click here.
A handmade quilt is something truly special. But we wanted to make it even better! When you upload your special family moments onto our gorgeous Personalised Photo Quilt, you will end up with something wonderful, a real family heirloom. With an eiderdown style, our photo quilts will make those precious memories last forever.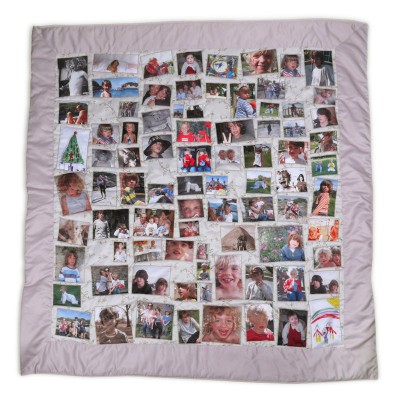 Hand printed, hand cut and hand sewn, the patchwork design of our quilts will make a real statement piece in your home, draped over your couch or on your bed. Our quilts range in size from small all the way up to super king and you can choose just how many photos to design it with. Remember though, you don't need to upload just photos. You can create your personalised quilt with images of art, design, film, actors…the choice is entirely yours. Start designing here.
Create something special and meaningful, which you can also snuggle up in, with our gorgeous personalised Blanket of Love. Our love blankets have an adorable heart print, and your chosen photo is printed in the middle of a heart outline. A perfect gift idea for the one you love, our soft and cosy Blanket of Love just begs to be cuddled! Made from a super soft fleece, our hand crafted custom blanket is made by us in London at the Bags of Love HQ. You can add a line of loving text to make it even better! Create yours right here.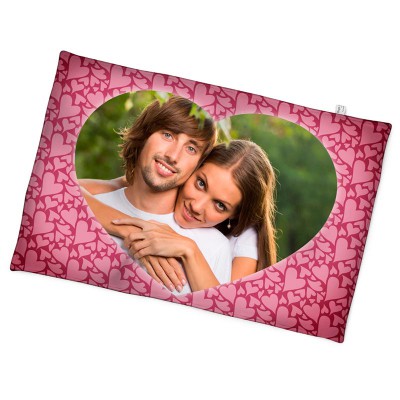 We have a whole range of beautiful personalised bedding, which is available to customise now! From cushions to baby blankets and pillow cases to sleeping bags, have a browse of our unique bedding here and start designing now. Autumn, we're ready for you!
Bags of Love x