You may well be aware that we have a pretty brilliant competition page, where we host…erm…competitions!
Mainly of the design variety, we love challenging our extremely talented customers to come up with exciting and unique designs, in order to win a host of lovely prizes!
Two of our competitions – Blooming Marvellous, a floral print t-shirt design competition and Summer Daze, a summer inspired silk scarf competition, have produced some absolutely stunning designs, and introduced us to some very talented people.
We got in touch with a few of the overall winners of both competitions, to see if they would be up for being interviewed and we are lucky enough that some of them have said yes! Yay!
So, without further ado, allow me to introduce you to one of the winners of our Summer Daze silk scarf design competition, Mel Chappell.
Bags of Love: Hi Mel! Could you tell us a little bit about your design?
Mel: Summer Daze is a design that originated from a design I previously created called Crazy Huts. The little beach huts are randomly placed in a simple, playful manner. The colour is inspired by the sky blue of summer, with a solid, bold transparency to represent the vastness of the sky.
Bags of Love: What is the inspiration behind your design? Is there a story, which accompanies it?
Mel: Summer Daze is a design influenced by two main subjects – the beach where I live on the Wirral (NW England) and my pet dog, Honey. The hut itself is an adaption of a kennel that I had designed in a previous piece, which took on a cartoon strip format and involved the characters of my dog and cat. I have used the design (in a different colour) in my home and produced it on canvas, blinds and hand towels.
Bags of Love: Do you have a website, which we can share with our readers?
Mel: This is my website: www.designedbymel.co.uk which also links my two online shops, where people can shop my designs.
Bags of Love: What do you plan to do with your prize?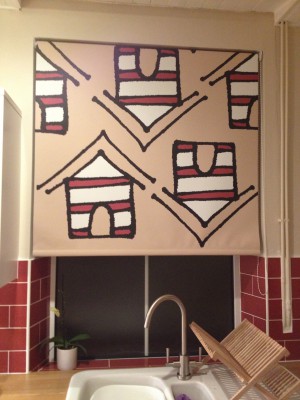 Mel: I won my design printed on the Bags of Love silk scarf, which I plan on either wearing or displaying somewhere in my home.
Bags of Love: How would you describe your style of design?
Mel: The style of my design is bold, lively, simple and energetic. I think it is also quite fun and makes me smile when I see it. It is a very versatile design and I would love to see it across a range of products.
Bags of Love: If you could design any product on the Bags of Love website, what would it be and how would you design it?
Mel: Ooh, tough to choose. I would design bedding or curtains, something with a big surface area. The approach I would take would be a random, fun design, which tells a happy story. I would also like to design your wallpaper!
Bags of Love: What product would you love to see on the Bags of Love website, if it doesn't already exist?
Mel: I have already used Bags of Love to produce a t-shirt, glasses cover and canvases. You already have a vast quantity of products, however, I choose your site because of the quality. Plus the fact that I like your branding – it is fresh, simple, fun and eye-catching! Similar to my style, so it appealed to me personally.
Thank you so much Mel for taking the time to talk to us! If you would like to be featured as one of our winning designers, then make sure you check out our competition page, where we will be revealing our latest competition very soon!