We were recently contacted by one of our favourite radio stations, Heart, to see if we wouldn't mind helping them with a present for one of their breakfast presenters.
Well, of course we said yes!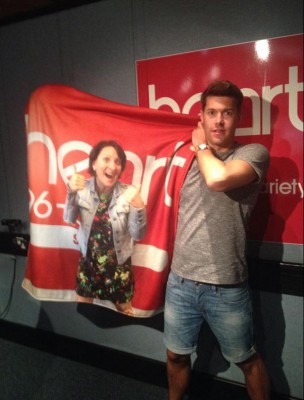 It was the lovely Rich Clarke's birthday and his co-presenter Zoe and  the rest of the team from Heart Solent Breakfast got in touch to see if we could make him a special personalised blanket and t-shirt, to surprise him with. Well, as they were playing one of our favourite songs at the time, Happy by the wonderful Pharrell Williams, we couldn't say no, so we got busy and started making Rich his birthday goodies!
Once we had stitched and printed his personalised towel and personalised t-shirt, we popped them over to the Heart Solent team lickety split.
We were really chuffed, when the next day, both Rich, Zoe and the Heart team tweeted about how much they loved the personalised blanket and t-shirt we made for Rich! Zoe chose a couple of fab designs, and they looked brilliant on them. Not only did their tweet their thanks, but also a video of Rich opening his blanket and a rather spiffy photo.
Happy birthday again Rich and we hope to see you guys at Bags of Love again soon. It's nice making new friends!
If you fancy making a personalised blanket for yourself, or as a treat for someone else, just click here and you can get designing. Or, if a personalised t-shirt is more your thing, click here and you can create your very own.
Bags of Love x