Last Saturday we were delighted to attend the New Designers show at the Business Design Centre in London, where and astonishing 3,000 graduates were displaying their wares. The event has been running for 30 years and, among other noble pursuits, has a strong focus on textiles and materials.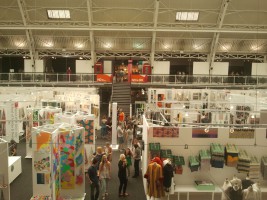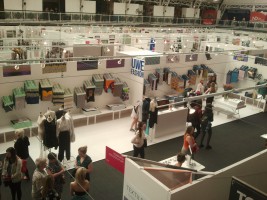 We were hugely impressed with the talent on show and it was a pleasure meeting so many creative minds and emerging talents.
One such talent was Angelika Stenka from Bournemouth. Her silky, soothing patterns were dark mysteries alluring the eye. One piece of piece of Lucent Satin, custom printed by Bags of Love, was appended with insidious tendrils crawling across the material, blurring the line between impression and reality.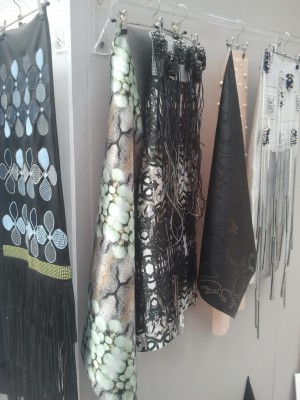 Another customer we were fortunate enough to run into was Ciaran Moore from Glasgow School of Art. Ciaran is devoted to his craft and had entire collection of materials on display. Favouring blacks, whites and greys – only occasionally flirting with pastille pinks and blues – his smokey designs give the impression of refracted light when looking skyward from under the water. How inspiring!