Today I'm going to show you a brilliant way to up-cycle your old clothes using heat transfer paper, otherwise known as sublimation printing paper.
Usually, designers or factories will use a heat press. This morning I was lucky enough to use one and I'll show you what we did with it. I got my heat transfer paper from Bags of Love. They're an online company and you can get as little as an A4 piece of paper printed which costs about £4.00.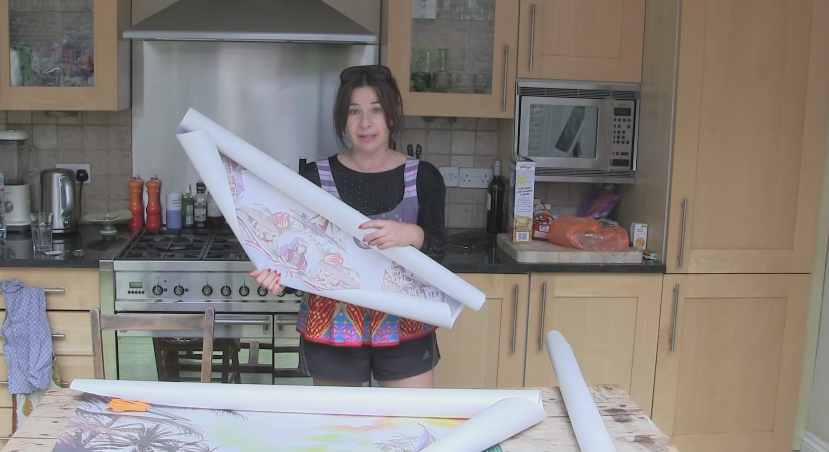 The brilliant thing about sublimation printing is that you can use the same print over and over again and it will just become a lighter version. The important thing to remember about sublimation printing is that whatever you print it onto has to be at least 65% polyester content. For your images, you can create lovely paintings if you're good at art or you can do what I did which was to look on Etsy for some artist pages. There was a lovely guy called Nelson Ruger and he's got a site called Nelson Makes Art. Nelson does these beautiful, Tiki, Hawaiian-looking paintings and sells the prints on site. I asked him if I could buy his image to use on the heat transfer.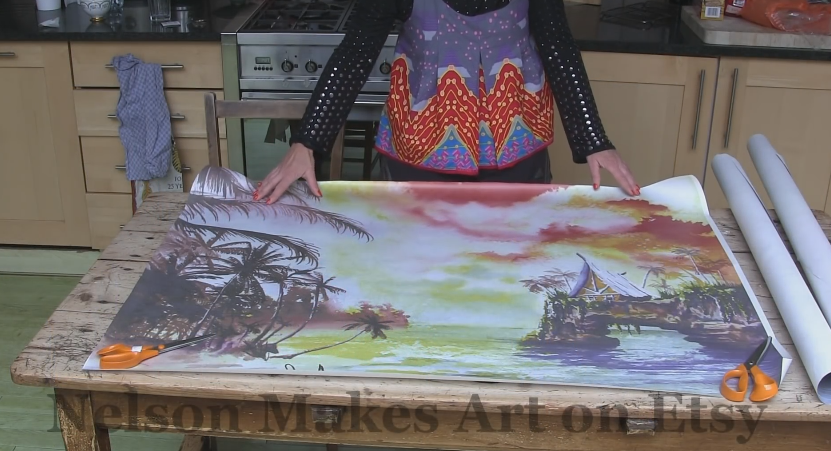 The image is much more vibrant than you can see here because when you get it printed onto the heat transfer paper it looks muted but once you get it printed onto the fabric it will come up really vibrant. Also, I took a picture of one of my beautiful Dutch vintage scarves. Look at when you print onto 100% polyester; it comes out really vibrant!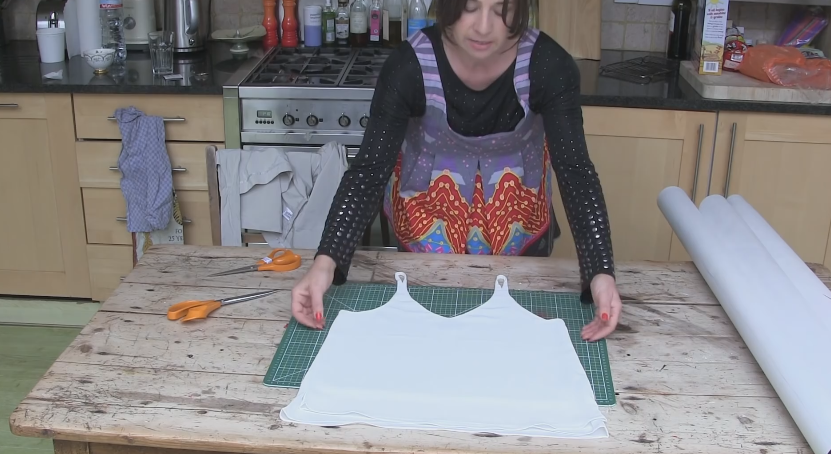 This is a vest top I'm going to use and this is the inside lining of a trench raincoat and I think would be fantastic with all the quilting. I don't know how it will come out but this is 100% polyester as well. I thought it would be brilliant for Nelson and his Hawaiian Tiki art to do a Hawaiian shirt.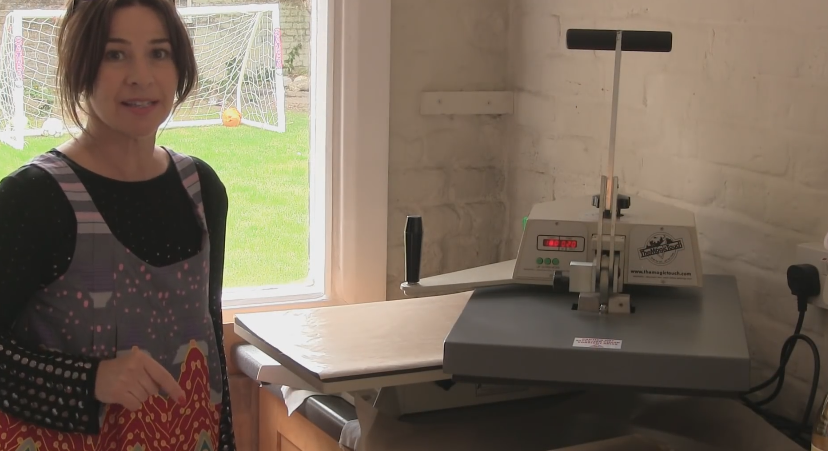 This is an A3 size heat press and it belongs to my lucky sister, Shaz! I'm not going to get too technical with this as most of you probably don't have a heat press at home and you'll be using an iron. Shaz pointed out at that because the heat press is only so big and it's difficult for me to shift the design along, she suggested I created distressed, deliberate pleating. So I'm trying to centralise my vintage scarf design. I've got the transfer paper face down, Teflon on top. Shaz says I pull it across – which is really scary because it all feels really hot! Then I pull out the pin, pull it down all the way and it's on a timer. So, pull the pin out, lift it up… Oh my goodness! I can see it already!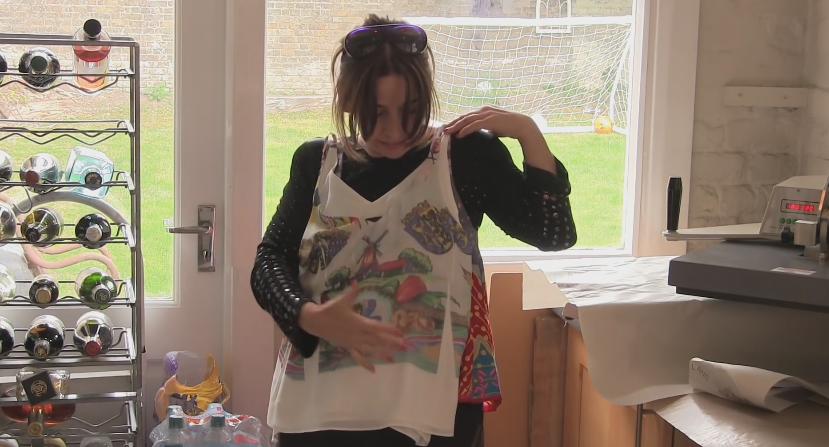 That's amazing! And the colours are just so vibrant! That's the effect of those pleats that I did, which I think tie quite nicely with the white I left at the bottom.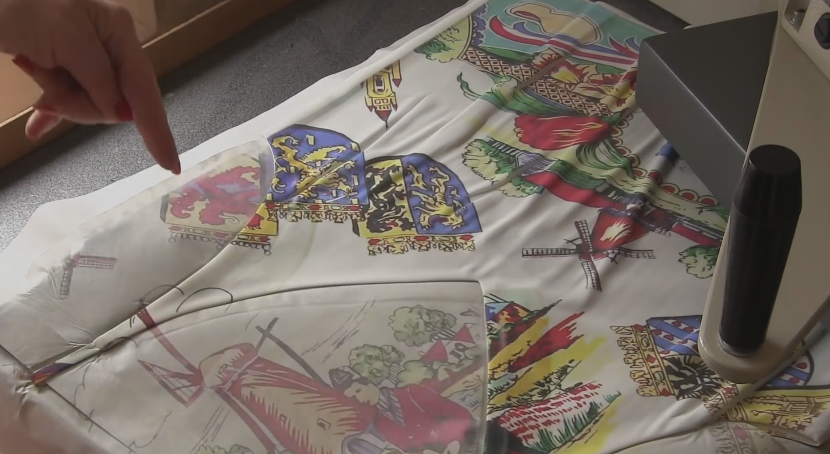 This is the second. I've done it twice with the same bit but it's still really vibrant! Wow, Bags of Love you sure do good sublimation print paper!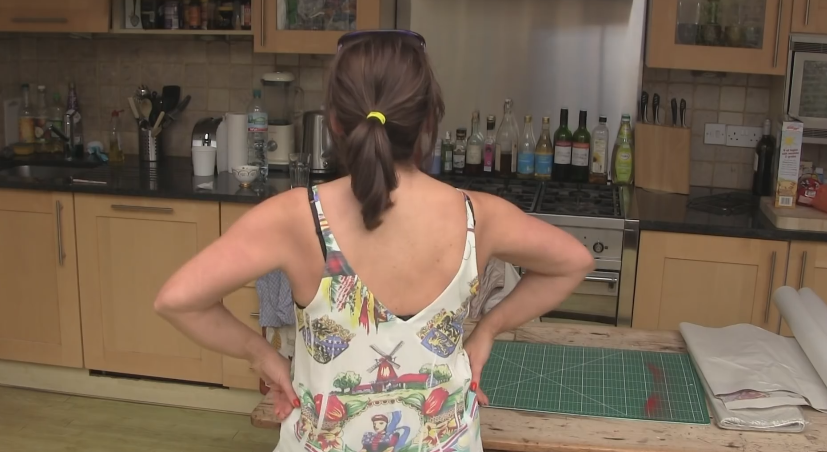 I don't usually like to get my arms out but I'll do it for you so you can see… Now that really is, up-cycling your top.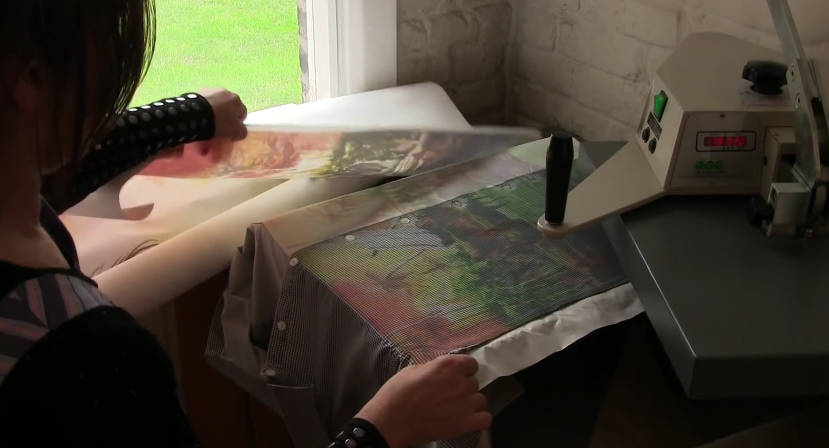 So this is me doing Nelson's Tiki print. That's amazing! So that is pretty good. Because this is more about you being able to do it than doing it on a heat press, for the rest of our experiments we're going to go back to the studio and use a really hot iron.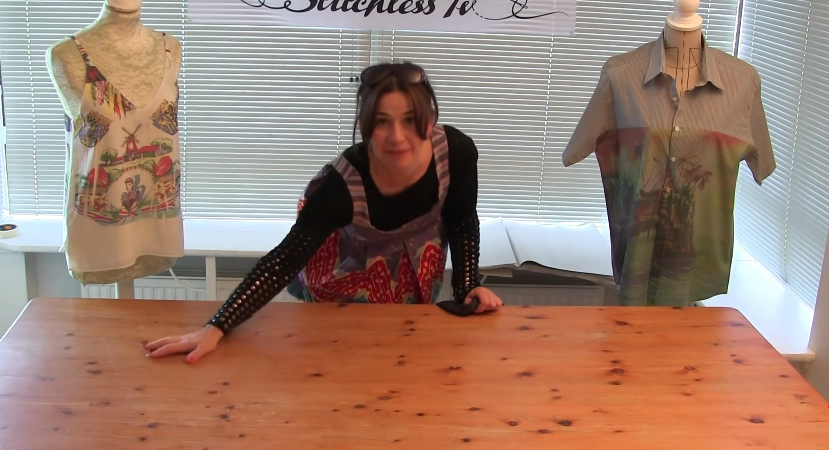 I'm lucky enough to have this really big table and I'm not really bothered if it gets damaged. If you've got a really big precious table, be careful. Even though I'm not bothered about my table I'm going to attempt to protect it a little bit. I'm using this slightly quilted fabric and covering it with pieces of newsprint.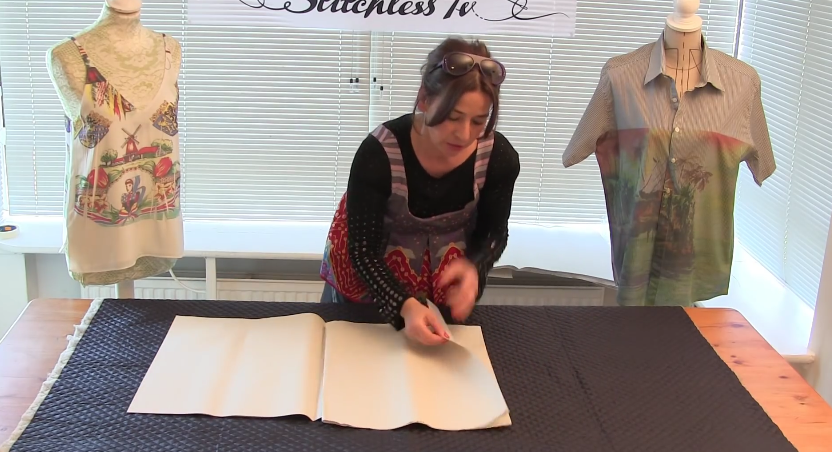 For the first project that I'm going to do using an iron, I'm going to use the sleeveless quilted lining from a coat because it says it's 100% polyester. So that means the image should be really strong. Also, I'm going to use Nelson Ruger's beautiful Tiki painting. It's very important that you mask off the areas where you don't want the print to go. It's worth buying a lot of newsprint when you get it because you do seem to use it a lot. You can actually use it for printing; if you accidently print onto the newsprint just use it again and put it face down and you can print with it.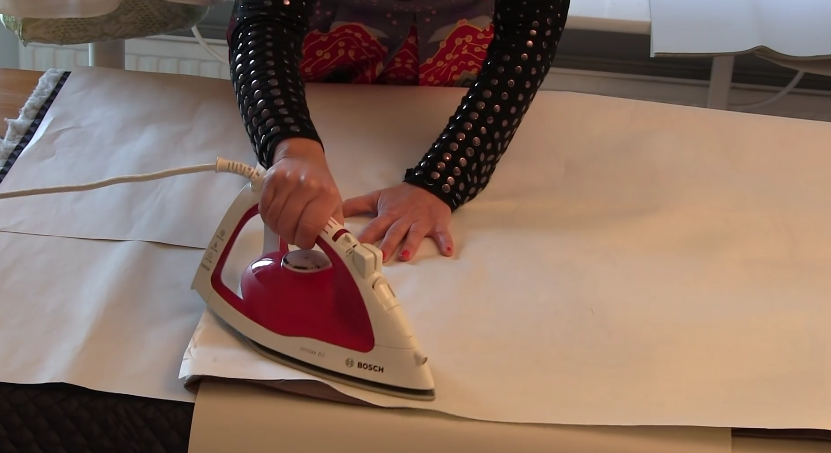 Put the huge picture on top. My iron is on maximum, absolute maximum hot setting, really, really hot. No steam at all and I'm going to keep moving it around. I imagine the image isn't going to be as crisp as when I move it through the heat press as there's going to be a little bit of movement. So I can completely have this moment with you. I haven't looked underneath yet but what I would say is, what I've learned from doing it, is work on one area first thoroughly, holding the iron quite a lot but keeping it moving, then start working your way up. Don't go back to that area because it might shift the image a little bit. But I've got no idea, honestly, no idea what this looks like, it might just be rubbish… God almighty! That is amazing!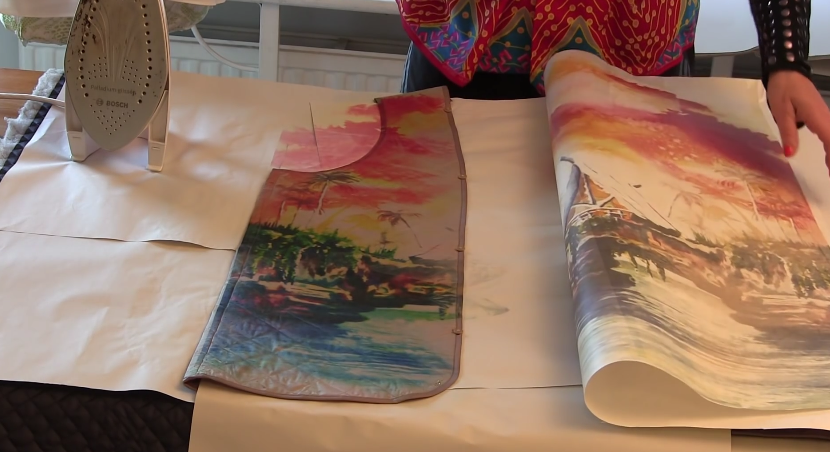 Look! Who needs a heat press? I think doing it with an iron – particularly if you haven't got a big enough heat press – you can have a much bigger area and have so much more control… I don't need to say anything do I? That is just amazing.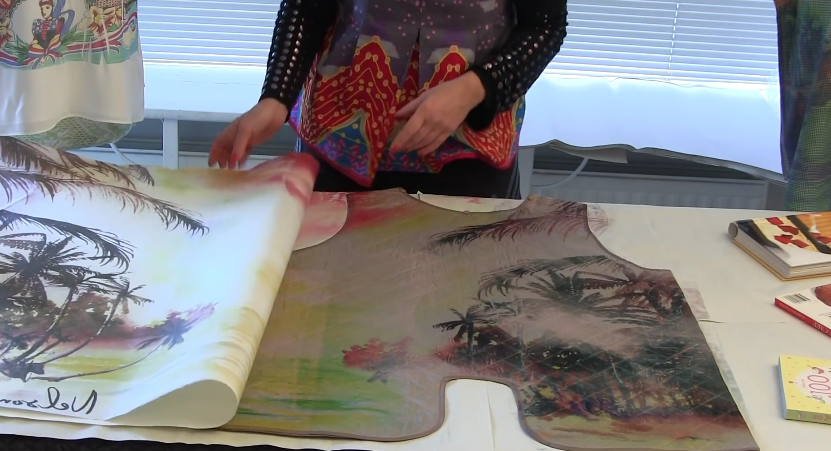 Alright, let's do that reveal thing again. Now look at that. My one regret is that I didn't get Nelson's signature, so I think, if I can, I'm just going to position his signature right there and see if I can just quickly iron it on… Woah! Yay!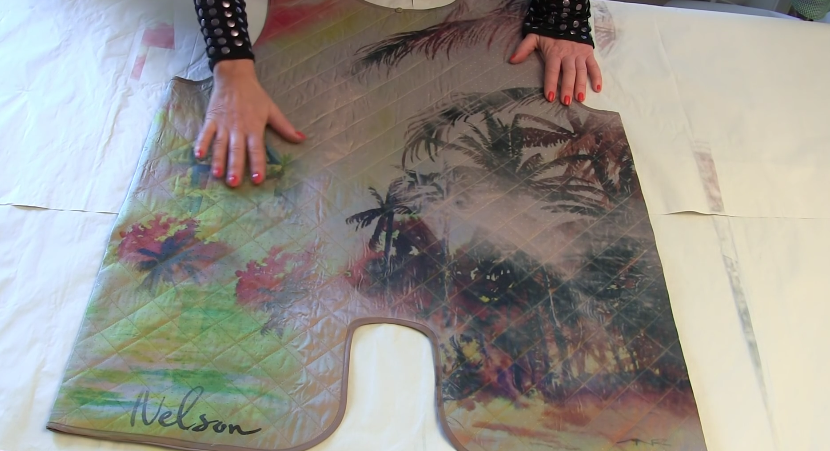 I want to tell you something. First of all, wow. But also, say you have quite a plain area – as I had quite a plain area here – I was able to position the transfer where the little house was, position it here and just iron that little bit and make it part of the picture. Look, I've done another bit of a red bush and a palm tree. I think I'm just going to add something up around this area, some green or something. Obviously, I'm not to be wearing this with shorts but does it look like a serious bit of designer kit and it just started it's life as quilted lining from a man's trench coat.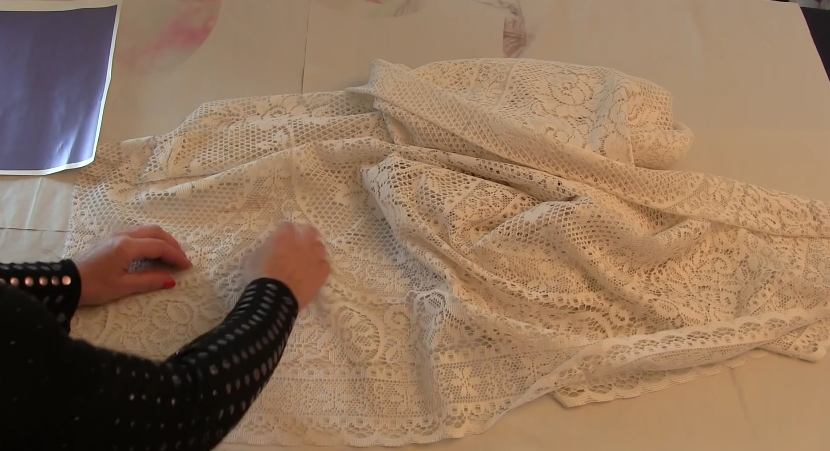 Okay, I'm just going to do a few experiments now. I've got some kind of polyester crate and some regular net curtain fabric. I've got a plain coloured print – because you can just get blocks of colour printed – I'm going to lay that on top of my lace and then let's see what happens when I iron the plain colour on to the lace that has the polyester underneath. I'm going to do loads and loads of heat for this…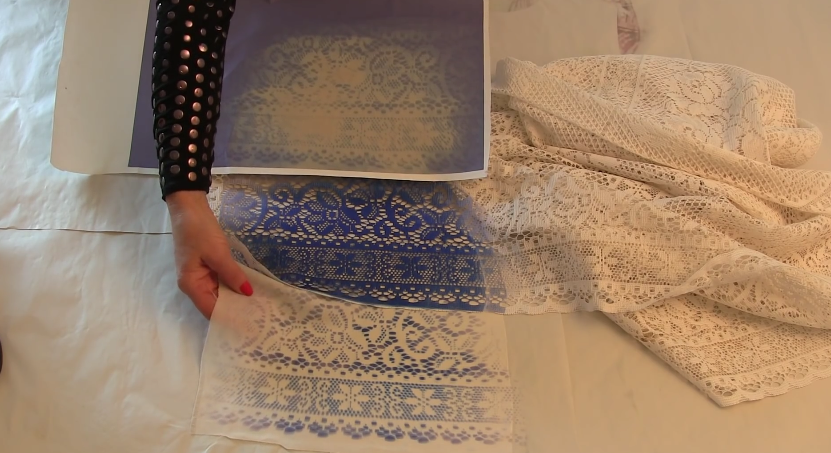 Wow, look at that! Gosh! I think maybe if I'd have had a spongier blanket underneath, it would have stood more of a chance of going through. It's one way to die and print your lace – which is fantastic – but then look, we've printed the lace, and then we've got an impression of it on the fabric as well. I really quite like it. On the paper too. We've got an impression of the lace on the fabric. Hmmm… My imagination is going wild, is yours?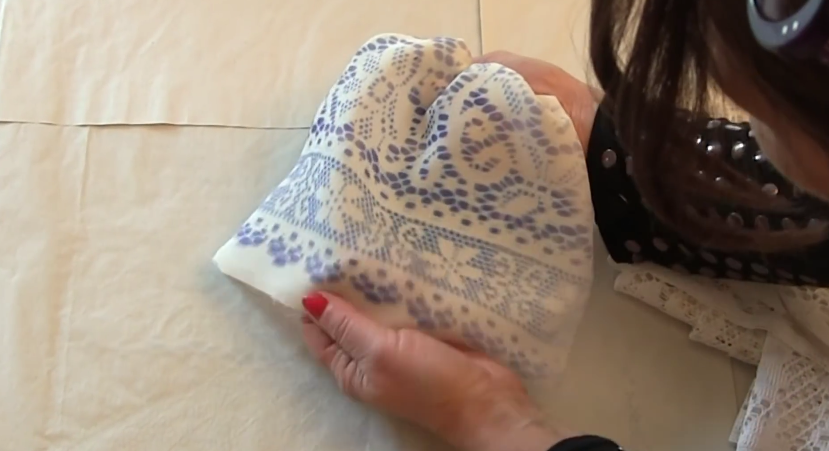 Now that would make such a lovely little puff sleeve. As you can imagine, you can just go on forever with this technique and just keep experimenting with loads of different fabrics. I've found that even sequins I can transfer onto but only with the first strike.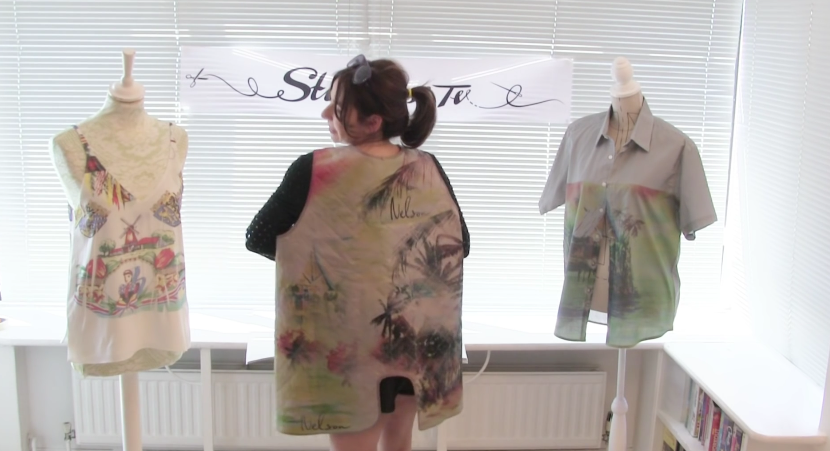 So to get your heat transfer paper to get this technique – so you end up with gorgeous things like this – go to www.bagsoflove.co.uk/transfer-paper.aspx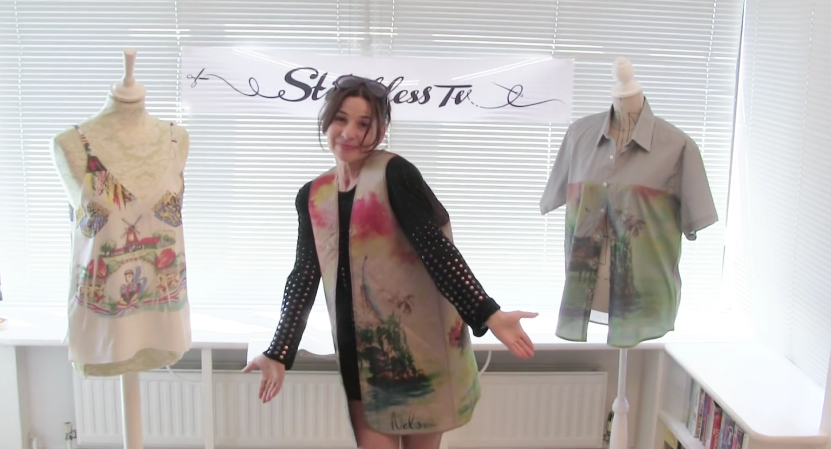 If you have a go at doing this technique I really want to see it on my Facebook page StitchlessTV Sewing Channel. Thank you so much for watching, see you again very soon. Bye!